Team to deal with El Nino emergencies in Coast region formed
The two levels of government have announced a joint multi-sectoral task force to combat the effects of El Nino.
Weather experts have predicted devastating flooding and storms from this month that could render thousands of residents homeless. Governor Hassan Joho spearheaded the formation of the task force that also includes Mombasa County Commissioner Nelson Marwa.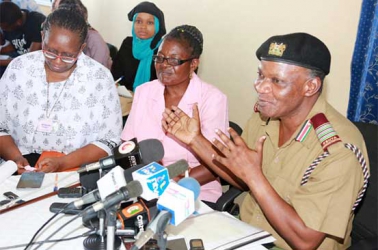 Mr Joho is in the US attending a United Nations forum on terrorism. Mr Marwa yesterday said the team comprising security agencies, parastatals, non-governmental organisations (NGO), the National Youth Service (NYS) and the county government was ready to tackle any disaster arising from the impending rains.
"We have what it takes to tackle any disaster in the county. We are prepared to handle El Nino," he said.
Earlier, the team comprising police chiefs and representatives from the Kenya Defence Forces (KDF), parastatals and the NGOs met to plan for mitigation measures ahead of the torrential rains.
National disaster
"El Nino is a national disaster but we can put in place mitigation measures to lessen threat to life and damage to property," Marwa said.
He identified Majengo Mapya in Likoni, Changamwe, Kongowea, Kisauni and the Island as areas that are likely to be hardest hit.
Take a quick survey and help us improve our website!
Take a survey
He advised those residing in landslide prone areas such as Kalahari slums in Changamwe, Mwakirunge, Jomvu Kuu and Mshomoroni to move to higher ground to avoid disaster arising from houses covered with mud.
He said the rains were likely to affect power lines resulting to power outages which would affect critical facilities such as hospitals.
He said parastatals would work to limit the effects of the rains, adding that already, the Kenya Ports Authority (KPA) had volunteered suction machines to deal with floods.
Marwa noted that a helicopter will be on standby to conduct rescue missions in impassable areas, adding that there will be rescue boats for evacuations in the flooded areas.
"The essence of any government is to ensure the security of its people and property," he said.
He said there will be evacuation centres in Changamwe, Jomvu, Mvita, Kisauni, Nyali and Likoni.
The Mvita evacuation centre will be based in Tononoka, while the Show Ground and Mwakirunge Primary School will serve as Kisauni evacuation centres.
Those in Changamwe will report cases of missing people and other disasters at Refinery Ground while Kajembe Primary School will serve as the evacuation centre for Jomvu.
First responders
Under the plan, St John Ambulance, Kenya Ports Authority (KPA), NYS, Kenya National Highways Authority among other agencies will be the "first responders" who will be expected to spearhead rescue operations.
Mombasa County Water, Environment and Natural Resources Chief Officer Francis Kombe said the county had brought down structures that had blocked the movement of flood water in Bamburi. He further said the county had unblocked drainage waterways in all six sub-counties.
Mombasa County Director of Meteorological Services Lydiah Inoti said the meteorological department has been monitoring the rains for the past five months.
"Our monitoring for the past five months shows that we have 95 per cent chances of El Nino," she said.
Ms Inoti said there may be outbreak of waterborne diseases such as typhoid and cholera as well as malaria due to stagnant water that would provide breeding ground for mosquitoes.
Inoti said the forecast by the meteorological department showed the rains will start toward the end of this month and extend up to January.