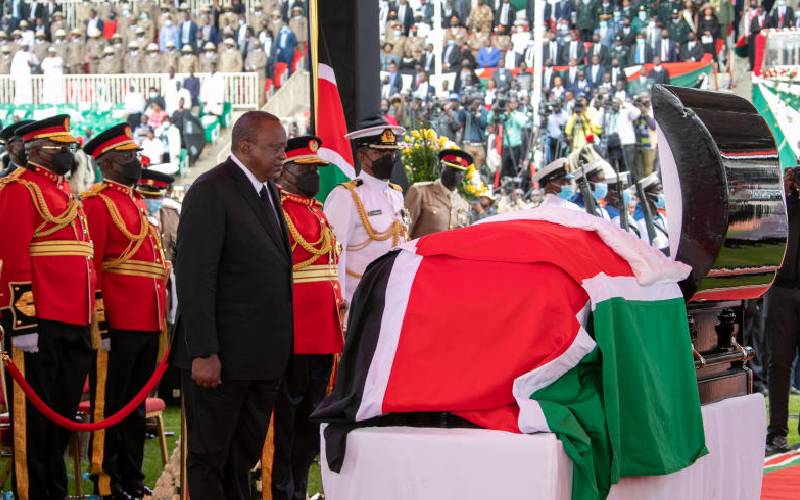 Othaya Constituency is waiting to bid farewell to its son; late retired President Mwai Kibaki who served the area for over three decades.
Othaya town, a small rural township with not more than three banks was looking cheerful yesterday with streets swept clean and a new tarmac layer here and there. There was also a heavy presence of regular and General Service Unit (GSU) officers, military and officers on horseback to the amazement of some locals some of who have never seen horses in real life.
A chopper would occasionally zoom over the skies sending locals staring sky way in utter amazement. Today will be big day when they bid farewell to their most famous son, the one who put them in the world map. At the former president's home just within the periphery of Othaya town, two sheets of roofing iron covered the burial site where he will be laid to rest today, next to his wife Lucy Muthoni. A mound of soil rested on the right side of the late president's grave, dug yesterday morning.
Everyone within Kibaki's homestead was preoccupied with some sort of activity. Groundsmen at the graveside were sprucing up the site, sweeping away leaves, mud, firming up the dampened grounds with gravel. Officers from the General Service Unit kept guard. A handful of military officers are present, making rounds across the vast homestead of the Kibaki's. Casuals neatly arranged seats within the two domes erected on the front lawn. All these people play their part in according a patriarch a sendoff befitting his stature.
"He will be returned to the soil, like he wanted" said Daniel Wahome, indicating that Kibaki's grave won't be plastered with cement.
"Just like Lucy's," he added. The late president will be covered in the heap of soil besides his resting place, returned to the soil in keeping with African and Catholic tradition.
Perched on a hill, Kibaki's homestead offers the best view of Mt Kenya to the northeast and the rolling green ranges of the Aberdare to the west. His house in Othaya elegant as it is, is not as grand, perhaps not as expensive as a retirement home built for him in Mweiga, Nyeri County. But Kibaki hardly occupied the place, perhaps testament of the simplicity many lauded him for at yesterday's State funeral in Nairobi.
It is to the simplicity of his home; the simplicity of his hometown Othaya that Kibaki returns today at the tail end of his last trip back home. His body will first make a stop at the Othaya Approved School grounds, where more than 15,000 will gather for a State burial service.
Two white domes, draped in the colours of the national flag, will offer some shade if the sun will be as harsh as it was yesterday. Preparations there are also on top gear. Police officers kept guard for the better part of the day, with their military counterparts joining later in the evening.
Screens had been mounted inside the domes, as they have been in targeted areas within Othaya town to cater to mourners who won't make it within the grounds where Kibaki's staged his homecoming as president in 2002.
It is the people of Othaya who piled pressure to Kibaki to leave the Donhoom (later Bahati, now Makadara) constituency to command the voters from his home area
The area had previously been represented by two MPs - Joseph P Mathenge from when the constituency was created in 1966 and Kega Muthua from 1969.
Prior to his election as Othaya MP in 1974 the Third President had served Donhoom Constituency after election in 1962 and 1969. This was an insecure urban constituency which was always under the threat of being lost in the undercurrents of Nairobi tribal politics at a time when Kibaki was allied to Thomas (TJ) Joseph Mboya against former Vice president Jaramogi Odinga Oginga.
When Kibaki left for his native Othaya Constituency, he was already a high profile and fast rising Finance Minister. He was overwhelmingly elected and re-elected to Parliament in subsequent polls 1979, 1983, 1988, 1992, 1997, 2002 and 2007 when he served his last term as the President.
The State and the county government of Nyeri has ensured that everything was well polished as they prepare to give the son of the soil his last respects.
Othaya Approved School's Grounds has been rehabilitated and three new gates mounted at strategic points to ensure that the expected 15,000 attendants are well accommodated.
The muddy stadium was yesterday graveled and red carpet laid where the tents have been made while a water boozer from Murang'a Water and Sewerage Company has been deployed to ensure that toilets have adequate water supply.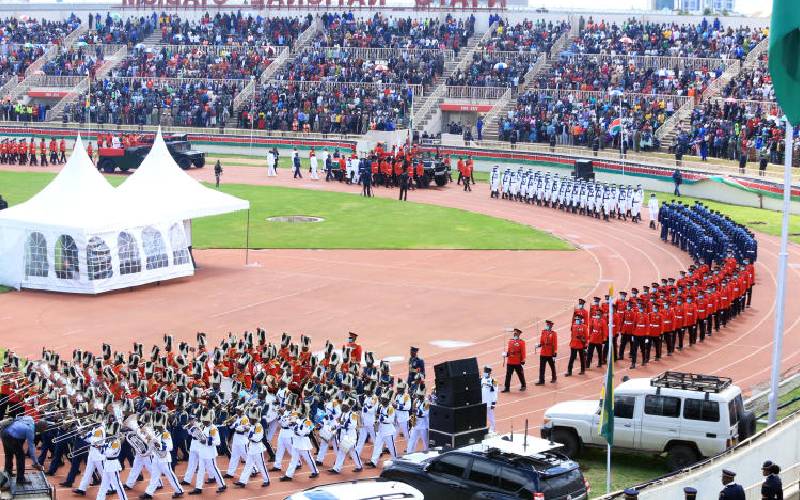 Locals such as John Kamau saw a business opportunity to sell branded umbrellas bearing the images and names of Mwai Kibaki while hawkers were busy setting up temporary kiosks to supply foodstuff to those who will be attending. As early as 10am yesterday, locals impressed by Kibaki's leadership had started arriving to pay their last tribute to Kibaki who established free primary education.
Such visitors included Jacline Anota who came all the way from Njoro, Nakuru County with clothes bearing the national flag colours. She had to sleep at Othaya police station to avoid being late top the function today.
"I loved Kibaki with all my heart, his leadership was characterized with humour and humility and I felt obliged to attend his burial ceremony, after the which, I will go back home contented and happy to have witnessed the burial of a great leader," said Anota.
She was armed with the national flag, the images of Kibaki and the late Daniel Moi to illustrate her love for the nation. She also attended the burial ceremony of Moi. Othaya town too had a new lease of life. A road leading to Othaya Approved stadium which is approximately 800 metres was tarmacked while pavements in Othaya enjoyed a new layer of tamarc. By 3pm, all the guest houses in Othaya town had been booked while their prices had skyrocketed from Sh800 to Sh3,500.
As police cars were going rounds around Othaya town others mounted on horses trotted around the stadium to ensure that all is well, Franc Kabing'u was looking forward to an eventful sendoff for the most famous local son.
"We shall spend all the hours it takes to give our final salute to our father, our leader, our inspiration," said Kabingu.
Mercy Wangari said that the burial ceremony of their favourite son came with some sort of blessings since the economy of the area will rise to higher margins.
"Since the demise of our son, there has been flow of money, thanks to the deceased decision to be buried in his local home. It coincides with school opening that requires more money for school fees and upkeep for students," said Wangari who operates a hotel at Othaya town.