Group endorses Senator Kibiru to replace Waiguru as Kirinyaga county spokesperson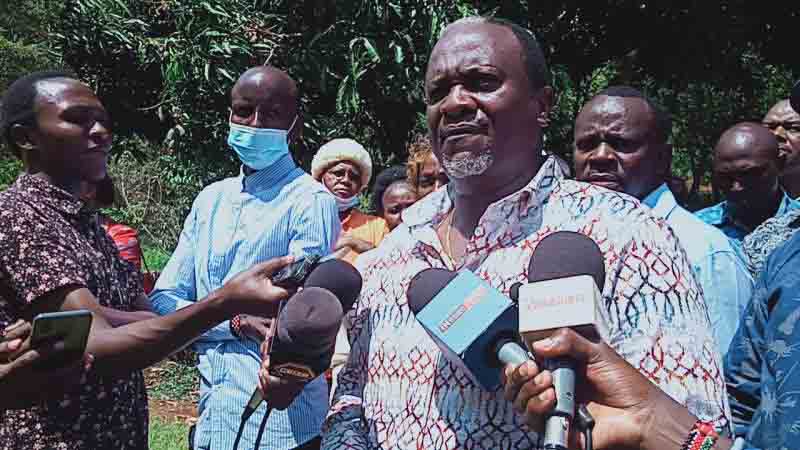 Four groups have endorsed Kirinyaga Senator Charles Kibiru to take over as the county's spokesperson after Governor Anne Waiguru dumped Jubilee to join United Democratic Alliance (UDA).
The groups which include Jubilee county officials, Maendeleo ya Wanawake, Kiama Kia Ma and Kikuyu Council of Elders said Mr Kibiru will be the link between them and the national government to ensure that there is no vacuum after Waiguru who was spokesperson "broke ranks with President Uhuru Kenyatta."
Speaking at a hotel in Sagana, Kikuyu Council of Elders chairman Harrison Ndambiri said the senator's endorsement was crucial since he would get briefs from the national government officials and deliver them to the county stakeholders.
Kibiru's mandate will be to oversight national projects and the county government.
Kirinyaga county Jubilee chairman Muriithi Kang'ara said that there was a vacuum that has since been filled.
"From today we have endorsed Kibiru to fill the political vacuum he will be the one to coordinate all activities between Kirinyaga and the national government and also our bridge in case we want government to address a certain issue," said Mr Kang'ara.
He wondered why Waiguru left the President's side despite enormous development projects that have been implemented by the government.
Maendeleo ya Wanawake chair Diana Gicaia downplayed the governor's assertions that Jubilee was weak in the region and exuded confidence that the party will win all elective positions in the county come next year's polls.
"She defected alone but the party is very strong in fact it will scoop all the elective positions in the county," Ms Gicaia said.
While welcoming the decision by the four groups, Kibiru said he would reach out to other leaders to forge unity.
The senator said that despite being elected as an independent, he supports President Kenyatta's development record in the county and vowed to ensure completion of projects.
"I have been mandated by the elders to ensure completion of on going development projects, they should not stall due to leadership vacuum," Kibiru added.
He said that Kirinyaga is not short of leaders and promised to engage the President on local affairs.?