Video: 65-year-old woman slits 99-year-old husband's throat over food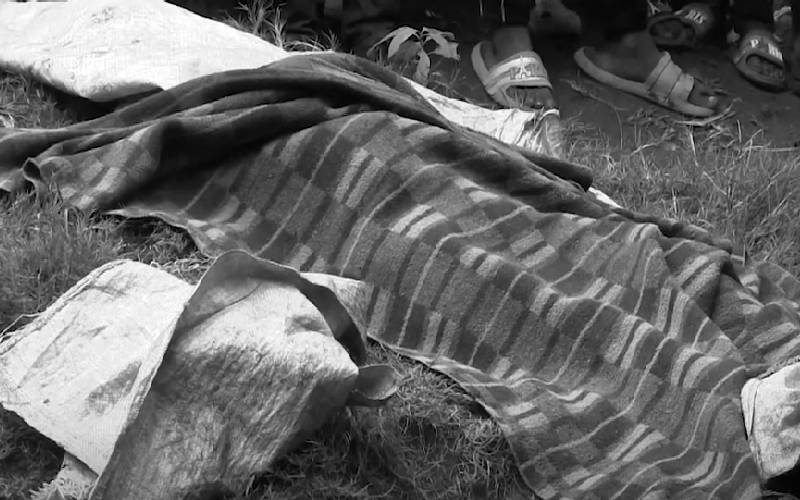 Detectives in Kandara have detained a 65-year-old woman over the death of her 99-year-old husband Ndung'u Mugachia.
Margaret Wanjiru is reported to have attacked Mugachia after a quarrel over food. The incident happened at Ndururumo village in Kigumoini, Murang'a county.
Wanjiru allegedly slit her husband's throat using a panga and left his body on the floor.
Mugachia, born in 1922, had just woken up and was warming himself by the fire in his son's house.
His daughter-in-law Betty Wanyoike told the police that the suspect had picked a quarrel with Ndung'u before she rushed to the kitchen and came with the panga.
Ndungu's brother Danson Ngige on the other hand linked the incident to a land tussle, where Wanjiru did not like how land was allocated to family members. Wanjiru is a mother of 10 children, but only five children are alive.
Eye witnesses also claim Wanjiru quarrelled with her 99-year-old husband over a meal.
Details showed Wanjiru had been denying her husband food, which angered his daughter-in-law who started feeding the old man.
The murder suspect is said to have been leaving her matrimonial home during fights but returning after a while.
Ndungu's daughter Salvina Nyambura said there had been disputes every time they gave their father food.
Nyambura said earlier in 2021, Wanjiru attacked Ndungu who was then hospitalised following excessive bleeding. She said she reported the matter to the chief but no action was taken.
Ndungu's body was moved to Gaichanjiru Catholic mission hospital mortuary, awaiting autopsy.