Police brutality: IPOA launches probe into death of Kahawa West man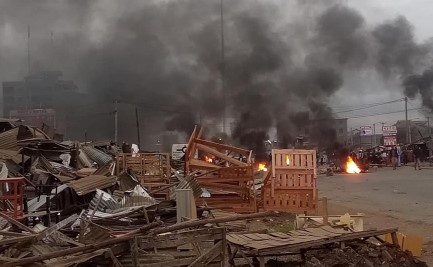 The Independent Policing Oversight Authority (IPOA) has opened investigations into the death of a man allegedly killed during protests in Kahawa West, Kiambu County.
The Authority, through its chairperson Anne Makori, said they received information that a man had died, when police allegedly responded to contain demonstrations over kiosk demolitions in the area.
"We will seek to establish whether the deceased succumbed to injuries allegedly caused by police officers enforcing curfew orders," IPOA said.
The policing authority further says it will make the findings public and alert the necessary State agencies, should culpability be found.
On Wednesday morning, it was alleged that a middle-aged man operating a tuk-tuk in the area, was fatally shot by police, who were repulsing protesters in Kahawa West.
Transport was disrupted for the better part of the morning, after the Nairobi Metropolitan Services (NMS) brought down traders' stalls.
It is the second such death linked to police in a week.
Last week Thursday, protests broke out in Nairobi's Kayole area after police officers in civilian clothing allegedly killed a 38-year-old man.
John Kiiru was allegedly clobbered to death for violating the 10pm-4am curfew.
Angry residents took to the streets to protest Kiiru's killing, barricading roads and lighting bonfires.
Wednesday's incident adds to over one hundred cases of death by serious injuries that IPOA is investigating.
Statistics show that between January and June of this year, 1,324 complaints were filed.