Speaker Justin Muturi dumps Jubilee, says he'll run for president on new party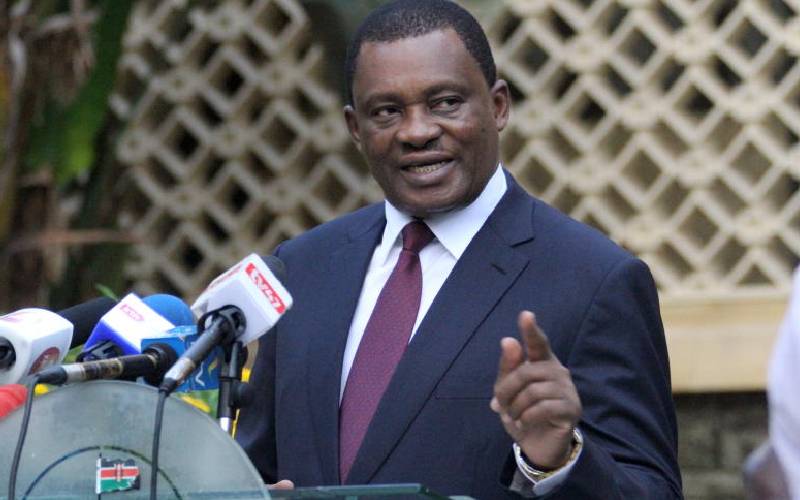 National Assembly Speaker Justin Muturi has ruled out running for office on President Uhuru Kenyatta's Jubilee Party.
Muturi, a close ally of the president, is however keeping cards close to his chest and has promised to name his vehicle of choice in a few months. "It is difficult for one to identify himself with Jubilee as it is now. Today, you don't know who is in Jubilee. Apart from those who were elected, who else is in Jubilee at the grassroots?" he posed.
Muturi said the party he will use to contest is still a work in progress. "The situation now is shaky because Jubilee failed to take the opportunity of turning itself into a powerful party with presence across the country," he said.
The Speaker said a serious political party must conduct grassroots elections from the polling station all the way to the top. Jubilee Party is yet to conduct grassroots polls to elect its officials.
Muturi, an insider in President Kenyatta's circles dating back from their days in former ruling party, KANU, now wants to cut his niche in national politics. Though, he has been behind the scenes by virtual of the speaker's office he has served in close to ten years, Muturi is no stranger to party politics.
He recalled how he was given the task of reforming Kanu when he was a member of the National Executive Committee before decamping to the National Party of Kenya, now the defunct The National Alliance (TNA) party with Uhuru. The Speaker revealed how he worked on a new constitution for KANU but his proposals were opposed. "Fortunately, we had acquired the National Party of Kenya, a name I said was not appealing and so we came up TNA and gave it the constitution, I had done for Kanu," he told The Sunday Standard.
At that time, he argues because the general election was approaching, TNA party polls were deferred but that was forgotten after winning the 2013 presidential vote. That, he regrets has been the sad story of Kenyan political parties because they are just used as vehicles for people to get into power. "One would have expected that after getting so many MPs in 2013, we could have built Jubilee to a behemoth from the grassroots, with people proudly calling themselves chairmen," he recounts.
He regrets that his efforts to make Jubilee national, failed even after he suggested names of people to work with at the county level. "I know how to network and could have had Jubilee party leaders in all the 47 counties," he says.
The speaker also weighed in on his relationship with President Kenyatta, affirming that they have been together in good and bad times, but doesn't need his endorsement.
Muturi describes the bickering by politicians in Mt Kenya East and West as "a healthy thing in a democracy" but cautions that it should be done with civility.
He says leaders should accommodate differing opinions, adding that in a democracy one has to sacrifice some dearly held positions and reach a compromise. Some say Muturi is soft-spoken and does not engage in high octane politics, but to him, it's the best way of engaging issues in high office. "It is my nature because I will not make sense when I shout at the top of my voice. Like Plato said shouting only appeals to the heart and not to the mind," he explains.
To him, shouting on podiums has allowed all manner of quacks and people with questionable character to get into top leadership.
He says his motivation to run for president comes from a desire to serve people. "It is equity, social justice and fairness. I believe what is good for me should be the same for others, where all people share the same services irrespective of their status," he says as he promises to advance equity in all parts of the country.
He said his leadership will be a clear departure from the successive regimes. "It is not about bottom-up or top-down but sluggishness in implementation and that must start from those at the top taking tough action," he says.
He identifies Vision 2030 and the Big Four Agenda as some of the policies which can transform the country into a middle-level economy but have not been fruitful because of lack of seriousness in public service. A situation he blames on lack of accountability, transparency and integrity. "They have become just clichés that are just said because it is fashionable. But I will tell them that if you are not willing to be accountable, please be ready to face the consequences and step aside," he said.
He also took issue with the haphazard manner in which Performance Contacting (PC) is done to make those serving in public service accountable. The PC in public service was introduced during President Mwai Kibaki's tenure but has not worked due to resistance by those who waste and pilfer public resources. He recently introduced it in Parliament amid resistance from top-level management.
Muturi pledged to take corruption head-on through tough action against corrupt civil servants. He said these tough measures will ensure wastage of public money through overpriced projects and kickbacks by officers especially those he calls Treasury mandarins and others in the Ministry of Roads are exposed.
For instance, he cited the 205km Loyangalani Wind Power project road in Marsabit that was constructed by a consortium funded by the European Union at Sh10 million per kilometer.
Muturi is startled that whereas the cost of that high-quality road is known, officers at the Roads Department Materials Section office in Industrial Area insist on pricing road construction at Sh120 million per kilometre. "That road handled heavy machinery which was being taken to the site and is still intact but the people at Materials office will tell you we can't do our roads that way because of terrain and other funny reasons just to skim the public," he says.
Having served as a magistrate in several stations in Western, Eastern and Central, Muturi says he understands the country well and is ready to serve as the next president.