You are enemies of development, Governor Kimemia tells critics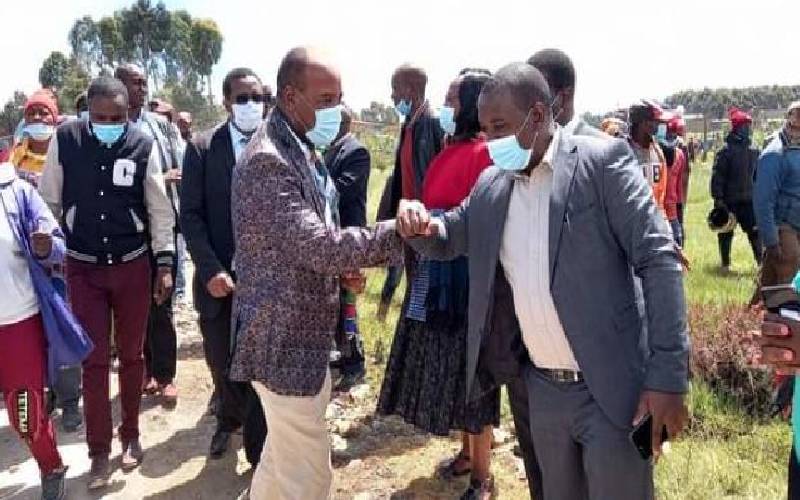 Governor Francis Kimemia has defended his development record, promising to deliver all his pledges before next year's elections.
Speaking at a rally at Mirangine trading centre on Thursday, Kimemia said those criticising his government were only doing so to achieve their own selfish political interests.
"My critics must be too ignorant if they cannot see what the county government has done since I took over. Before listening to them, I urge residents to judge the performance of my government by what it has achieved," he said.
He added: "They are only interested in fighting my government for political expediency. We have achieved a lot in the last four years I have been in office and I am going to do more and deliver all my promises.
"We have graded over 1,000 kilometres of roads, enhanced provision of water and improved agriculture and the residents of Nyandarua can bear me witness on this. We do not want to bring politics into our development plans," said the governor as he toured various development projects at Githioro Ward.
Kimemia said his administration is also providing free milk to ECDE pupils besides improving healthcare.
Some of the residents have taken to social media to accuse Kimemia of failing to deliver on the promises he made ahead of the last elections.
"Some people are working day and night, and have gone as far as using the social media, to oppose every project I undertake. I will not be cowed. Instead, I am going to work hard to deliver on my campaign promises," Kimemia said.
The governor initially preferred working from his office in Ol Kalou town and occasionally toured projects. However, he has recently been involved in monitoring projects and launching new ones.
"Our people are beginning to enjoy the benefits of the development projects I have initiated since I took over the leadership of this county and this has made my opponents very uncomfortable. That is why they are engaging in a smear campaign. They will not succeed," said Kimemia.
He said he will allocate more resources to development once the budget for the next financial year is passed by the county assembly.
"Under my leadership, Nyandarua will no longer be listed among marginalised counties. We are working to become one of the most developed counties. We shall ensure no resources go to waste as was the case in the past. We shall account for every coin."
The governor also warned county government officials against engaging in corruption saying those found will face the full force of the law.
"I also call on all leaders in this region to join hands so we can develop our county. Let us all work together for the sake of development. There is no way we will develop this county when we are divided," said Kimemia.