Why impeached speaker's mouth was his Achilles heel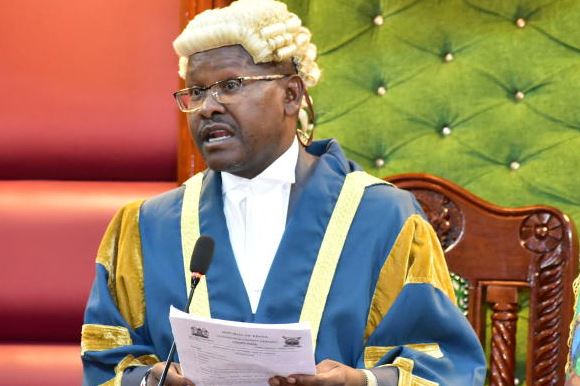 Former Nyandarua County Assembly Speaker Ndegwa Wahome (pictured) who was known more for his legal background than politics, represented a key constituency of professionals in the agriculture-rich county.
He rose to fame in 2012 when he represented Samuel Wanjiru, the 2008 Beijing Olympic Marathon gold medalist and 2011 Chicago Marathon champion, in a death threat case.
He offered his legal services to Wanjiru's widow Triza Njeri during the inquest in the athlete's death.
On Wednesday, 26 out of 39 Nyandarua MCAs voted to remove him from office. Only four opposed the bid.
Wahome's growing political influence in the county, his stand on the Building Bridges Initiative (BBI) Bill and a rift between him and Governor Francis Kimemia are said to be what led to his impeachment.
According to analysts, his woes started mid-last year after he fell out with Governor Kimemia, whom he accused of failing to implement his development agenda for the people of Nyandarua.
Wahome, 49, then became one of the harshest critics of Kimemia, who had promised to transform Nyandarua.
Irritant to the governor
Although his key mandate was to steer the legislative agenda of the county and ensure the MCAs played their oversight role, Wahome started attacking Kimemia's administration at every opportunity.
He would launch his attacks at funerals, harambees and any other public forum he attended.
"His persistent attacks on the governor and his administration was getting into Kimemia's nerves.
"He was becoming an irritant to the governor," says Paul Wachira, a lecturer at Laikipia University.
Wahome would challenge the governor to account for billions of shillings allocated to the county by the National Treasury.
According to insiders at Kimemia's office, it was then that they decided that enough was enough and a plot was hatched to "tame" him.
"The governor was fed up with the insults, which he said had gone too far since this was not the truth on the ground.
"That is when we met and decided that the only way we could tame him was to have him impeached," one of Kimemia's political advisors told the Sunday Standard.
Then during a swearing-in ceremony of Nyandarua County Development and Investment Authority in Ol Kalou town late last year, Kimemia said: "Go and tell that person who is going around insulting my government that I am not a cockroach."
First motion
The following week, County Assembly Majority Leader Ednard Kingori tabled the first motion to impeach Wahome over allegations of gross misconduct.
Kingori accused Wahome of, among other things, abuse of office and nepotism.
The Kinangop MCA also accused the speaker of undermining Kimemia's leadership and employing some of his relatives at the assembly.
In December last year, the first impeachment motion against Wahome sailed through the House, but the High Court in Nakuru saved him after he successfully argued that the legal process was not followed.
But Wahome was not lucky the second time when Kingori tabled another motion that succeeded on Wednesday.
Yesterday, a delighted Kingori told the Sunday Standard that the assembly can now work without worries after Wahome's ouster.
"Everyone is excited about what transpired on Wednesday afternoon.
"The assembly can now focus on its core mandate of legislation and oversight without worrying about political supremacy battles," he said.
He denied that Wahome's impeachment was influenced by the Executive, saying all the allegations levelled against the former speaker were true.
"All what we tabled in the assembly is factual and we stand with our decision.
"Let him not drag the name of our governor in his woes," said Kingori.
He added that when given a chance in the assembly, Wahome had failed to give reasons why he should not be impeached.
"He failed to explain why his relatives had been employed in the assembly and yet there were many qualified persons out there or how assembly money had been spent. Yet he is saying this is politics," he said.
Political analyst Thuo Gachino says the speaker could have been the target because he is the chair of County Assemblies Forum (CAF) and could have influence in the BBI process.
Wahome is said to be a supporter of Deputy President William Ruto.
"Everyone knows which side he is when it comes to 2022 succession politics.
"His influence on BBI could have many effects when the counties come to debate it. This is not local politics," Gachino said.
Wahome has however openly supported the document.
"Deep state"
Leshau Pondo MCA Kamau Gathungu however accused Kimemia of using "deep State" to intimidate them.
"Why would the names of seven members be brought to the House after they were suspended by the Jubilee Party just minutes before we voted? We now know what deep State means," he said.
Seven votes on the impeachment motion were declared invalid because the MCAs had been suspended by their party from attending sittings.
Kimemia has in the past distanced himself from the impeachment motion, urging MCAs to do what they wanted best.
But Wahome's supporters insist the governor was not sincere.
"It is him who has sponsored this motion and Nyandarua people should not be lied to," Gatimu MCA Kieru Wambui said.
According to some of Kimemia's allies, it is time to work for the people now that the "stumbling block" was gone.
But Wahome has vowed to move to court to challenge the decision.
He said he was clean and had never been involved in corruption, urging his opponents to report him to the Ethics and Anti-Corruption Commission (EACC).
"I will not be intimidated and will speak the truth. We cannot watch as our county goes down just because of a few corrupt individuals," he said.
His lawyer, Waichungo Martin, termed the impeachment an illegality.
"They did not meet the 75 per cent threshold as enshrined in the Constitution. That is why we will move to court to argue this case," Waichungo said.