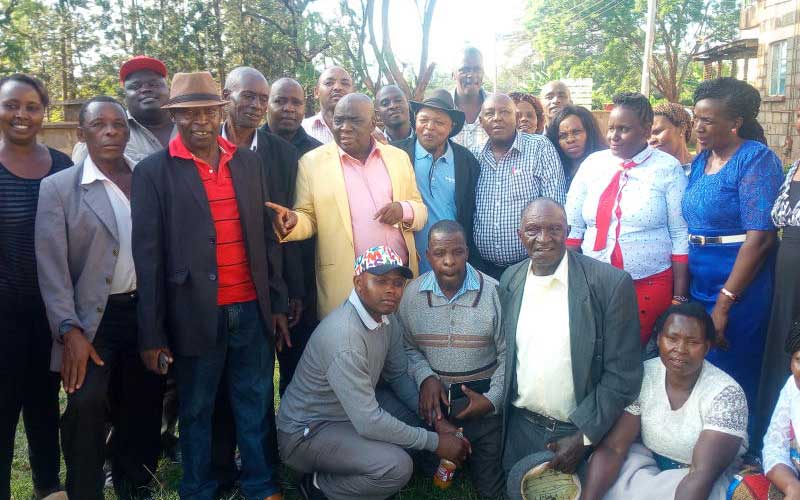 A lobby group has claimed a scheme to shortchange residents of Kiambu and Murang'a in the protracted land ownership dispute involving Del Monte Kenya.
Kandara Residents Association yesterday wrote to National Assembly Speaker Justin Muturi and Attorney General Paul Kihara protesting what they termed as "illegal resurveying" of the land.
The group claimed that the multinational fruit juice processor has been awarded 8,245 acres in Murang'a without the involvement of all the parties in the dispute.
Murang'a County government has reportedly also benefited in the resurveying by getting a parcel even as the group alleged a plot by some top Murang'a and Kiambu county officials to benefit from dubious leases.
Read More
Through its patron Philip Njuguna, the group accused Lands Principal Secretary Nicholas Muraguri and Murang'a County government of going against President Uhuru Kenyatta's directive for a win-win resolution.
Uhuru had mid last month ordered the ministry to listen to all parties and come up with a resolution by end of the month.
"Kandara Residents complaints have not been taken seriously. The PS Lands Nicholas Muraguri, Director of Survey, and Murang'a County Government have colluded to carry out illegal resurvey to sanitise illegal land use by Del Monte," claimed Njuguna in the petition.
It adds, "The direction was that a resurvey be done by Director of Survey to determine 70:30 ratio of all public land to Kandara Residents Association and County Government."
Njuguna claimed their push to have historical land injustices addressed have been frustrated by the Land ministry that has allegedly taken over the mandate of the commission.
"We are living witnesses that our historical injustice matter to the commission is now being managed by the PS of Land with manipulation of records," he added.
The residents now want the National Lands Commission to immediately take action and convene all stakeholders meeting to seek a solution to the dispute.
They also seek to compel the Director of Survey to involve all stakeholders for a credible resurveying of the land.
The National Assembly's Lands Committee had late last year ordered the Ministry of Land to immediately conduct a fresh survey of all land held by Del Monte in Murang'a and Kiambu counties within 90 days.
But the ministry failed to conduct the exercise within the timeline that was provided by the MPs.
Parliament had also asked NLC to start investigations into the circumstances under which the firm is alleged to have acquired four parcels of land totaling 7,400 acres.
The four parcels are said to have been surrendered to the government by two companies trading as Sassa Coffee and Rappit B Limited.
The lobby group has cited historical land injustices from Del Monte and wants part of the land ceded to the public immediately.
Murang'a County has also refused to renew the processor's leasehold for another 99 years unless the company cedes 6,000 acres for community based development.