Alarm as criminal gang forces traders to pay 'protection fee'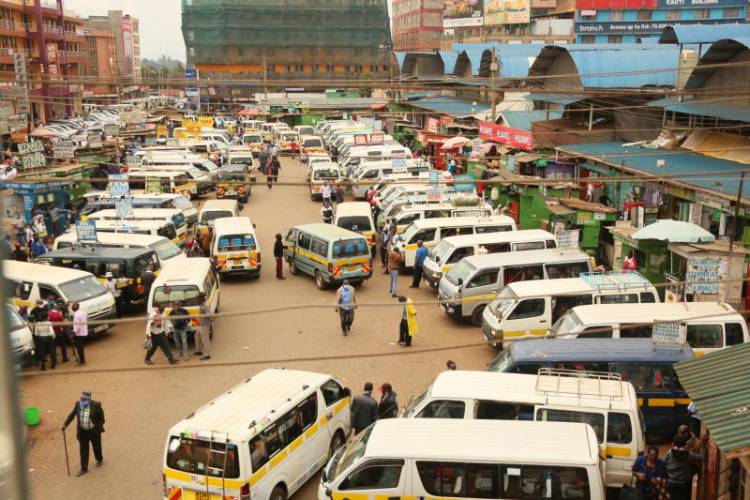 A vicious gang operating in Nyeri town has sparked fears that the outlawed Mungiki sect might be regrouping.
According to people aware of the operations of the gang, its members are so feared that they have forced a contractor on a road project within the town to cease operations after failing to pay protection fee.
Work on Blue Valley-Githinjiro road that cuts across to Witemere slum in Nyeri town has stalled after the gang sabotaged the project.
It has also stopped several other ongoing projects in informal settlements in Nyeri town.
The gang has been collecting money from matatus and businesses in Nyeri town, threatening those who refuse to pay up with dire consequences.
Sources say the gang is controlling Nyeri's main matatu stage and that it is already plotting to take over a new bus terminus currently under construction at Asian Quarters Estate.
"We normally pay them between Sh50 and Sh100 per trip. This is a serious matter that should be dealt with urgently. Something should be done to tame these extortionists who are exploiting us," said a matatu operator.
The gang's activities have drawn the attention of area MP Ngunjiri Wambugu, who took to social media to say he had received several complaints from his constituents who have lost money to the criminals.
"They are at matatu stages collecting money from Public Service Vehicles that they do not own," posted the MP.
According to Ngunjiri, the gang was also purporting to sell public land in Witemere slum to unsuspecting people and blocking roads to halt government projects.
The MP assured residents that he had taken up the matter with security officials.
"We have agreed there will be no general harassment of youth under any tag – historical or otherwise. They (gang members) will be dealt with as individual criminals," said Ngunjiri.
At the same time, Nyeri County government has warned residents to be on the lookout for the gang, saying its members have been extorting money under guise of allocating space at the upcoming bus terminus.
Nyeri Lands executive Kwai Wanjaria warned the public against falling prey to the fraudsters.
"Anyone who has paid money to be allocated space at the terminus should immediately report to the Department of Lands or the police," said Wanjaria. Nyeri Police Commander Adiel Nyange said the issue had been brought to his attention and that police were dealing with it.
"This might be an issue between the MP and some youth, but we will get to the bottom of it," said Nyange, referring further inquiries to sub-county police commanders.
Immediately after Ngunjiri posted about the gang, residents took to social media to vent about the re-emergence of gangs that have all the characteristics of the outlawed Mungiki sect.
In its heydays, the sect controlled nearly every sector in Central Kenya, more so the matatu business.
The sect was ruthlessly crushed by the government in an operation spearheaded by the late Internal Security minister John Michuki.
Bernard Wanjau, a resident, posted his experience in the hands of the gang.
"They demanded for protection fee for my car yet I had paid the parking fee. This must be brought to an end," posted Wanjau.
Private motorists who refuse to pay protection fees for their cars return to find the vehicle's side-mirrors gone.
Online, most of the residents pointed out that the gang had all the characteristics of Mungiki.
"Call a spade a spade. This is the re-emergence of Mungiki sect," one posted.
Before it was crushed, Mungiki members demanded between Sh500 and Sh1,000 from traders. Those who failed to pay were threatened with death.
Like the Mungiki before them, the current gang is said to have established secret bases within Nyeri town from where it has been extorting traders.
Such is the fear for the gang that no resident who has encountered it wanted their names mentioned when speaking about its operations, fearing reprisals.
"You have to pay them. Those who refuse to pay up are warned of dire consequences," said a trader, who sought anonymity.