Retirees to wait longer for pension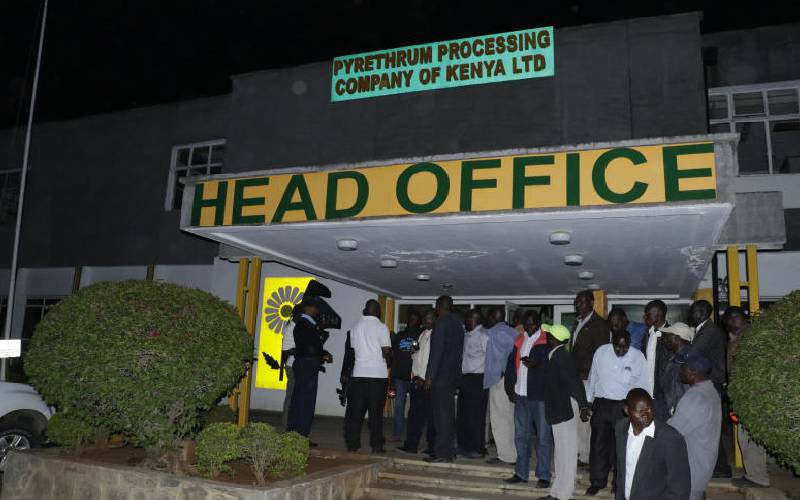 Some 322 pensioners of the defunct Pyrethrum Board of Kenya will have to wait a little longer before receiving their benefits, which amount to Sh2 billion.
The Standard has established that lack of management boards at the Agriculture Food Authority (AFA) that was managing the pension scheme and the Pythrethrum Process Company have delayed liquidation of the scheme.
The pensioners have now written to the Attorney General's office, which is the liquidator of the scheme, to hasten the process and save them from more suffering.
"The liquidation matter was placed under the government official receiver's office in May 2017. Three years down the line, the scheme beneficiaries are yet to realise their expectations," the petition read in part.
The scheme was placed under liquidation after the collapse of the pyrethrum sector, which left the company unable to pay the pensioners their monthly dues.
A valuation report compiled by Actuarial Services East Africa set the amount owed to the members at Sh1.5 billion, which has since accrued an interest of Sh500,000.
"The report handed over to the liquidator indicates the principal amount is Sh1,450,409,000 with an interest of Sh572,762,000 totalling to Sh2,023,171,000," the petitioners wrote.
Available options
AFA, which was the sponsor of the scheme, is to choose between disposing of the State corporation assets worth Sh4 billion spread across 18 pyrethrum growing counties or for the authority to seek funding from the National Treasury.
"This is to request you to consider the National Treasury to finance the deficit. Selling some of the assets to raise the funds is likely to raise objections from farmers, who claim ownership through shares," a letter by AFA to the Treasury dated August 13, 2019 read in part.
The Treasury, in response in a letter dated December 24, 2019, maintained the government could not fund AFA and gave an advisory that PBK assets held by the authority be sold.
"The National Treasury recommends the PBK staff pension scheme deficit be funded using the balance sheet (assets) of the sponsoring entity (AFA)," read a letter addressed to the Ministry of Agriculture.
The pensioners' spokesman Haron Tinga observed a major impediment on disposing of the property now lies with AFA and PBK, which has since been rebranded to Pyrethrum Processing Company of Kenya.