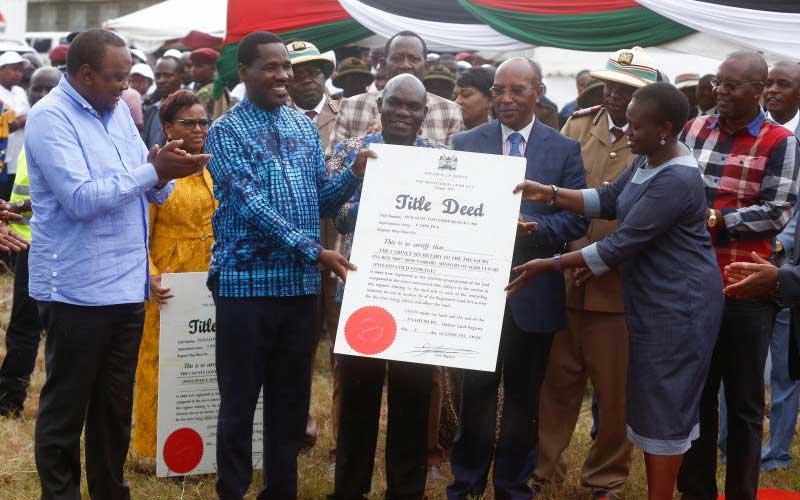 President Uhuru Kenyatta yesterday visited Nyandarua County in what was seen as a mission to reassert his control of a region critics say is slowly slipping out of his grip. Coming a day after Kiambu Governor Ferdinand Waititu - an ally of Deputy President William Ruto - was dealt a blow by impeachment, the coincidence was not lost on political observers who see it as first step to reclaim his hold of the region. The visit also came in the backdrop of reforms in the coffee, tea and dairy sectors vital to the region that has grown restive due to the 2022 political campaigns and unfulfilled promises. But the President's move is also seen as a counter to the growing reach of his deputy William Ruto and his allies who have been actively campaigning in the region.
SEE ALSO: Prepare for 'President Raila', says Murathe
Just last month, President Kenyatta gave several directives touching on the Mt Kenya economy. He directed the National Treasury to release Sh500 million to the New KCC to purchase excess milk from farmers and convert it into powder and Sh575 million to set up of two KCC milk plants - one in Nyeri and another in Nyahururu. The President also slapped a 16 per cent of value-added tax (VAT) on milk imports which was said to affect the price of milk. Potato, banana and rice farmers in Nyandarua, Meru and Kisii got Sh300 million, funds that will be used for the construction of cold storage facilities.
Excess rice
The National Treasury was also asked to release Sh660 million to the Kenya National Trading Corporation to purchase all the excess rice from Kano Plains and Mwea. Uhuru's bid to win back the region's favour also involved the sacking of Mwangi Kiunjuri from the Agriculture docket. He was replaced by CS Peter Munya.
SEE ALSO: Meet Standard Two dropout sprucing up Ol Kalou
His renewed interest in Mt Kenya comes after a November meeting at State Lodge in Sagana, Nyeri County, which sought to address discontent brewing in the region and which seemingly led to further cracks. Allies of Ruto dismissed the Sagana meeting. It comes barely a week after he was in Nakuru County where he took on Bahati MP Kimani Ngunjiri, one of his fiercest critics. In Nyandarua yesterday, the President continued his take-down of local leaders opposed to his leadership while also selling the BBI agenda. "Wananchi elected me to work for them and hence I will focus on what is my mandate. I will personally return to this place to come and inspect the progress of these roads. Those who are politicking are doing so for their selfish interests," the President said. And to send another message top those seen to be against the President, MPs and MCAs aligned to Ruto were barred from a meeting at the county commissioner's office. Among those ejected were MPs David Kiaraho (Ol Kalou) Zachary Kwenya (Kinangop) Michael Muchira (Ol Jororok) and MP Faith Gitau, and 10 MCAs. Speaking at the county assembly grounds, they said the plot was to bar them from addressing issues Governor Francis Kimemia had not addressed. They maintained that they respected the President and thanked him for the visit.
SEE ALSO: Pray, tell me, why are we like this?
Uhuru launched the construction of Sh1.8 billion Naivasha-Njabini road, expected to be completed by August 2022. "This new road will improve the economy of this region," he said, adding that it will help reduce travel time between Nakuru and Nyandarua counties. Another project he commissioned yesterday was a potato factory in Olkalaou, where he also assured dairy farmers that the Ministry of Agriculture was working to rescue them from the low milk prices. President Kenyatta said he will continue to spearhead efforts to unite Kenyans and that no one will stop his bid to build lasting peace. "We cannot afford to continue having a cycle of violence and destruction of property after every five years. I am determined to bring all Kenyans together," the President said. Nyandarua Governor Francis Kimemia hailed the new factory, terming it a milestone in the agricultural sector.
Cooling plant
"The county produces more than 70 per cent of potatoes consumed in Kenya. With this cooling plant, I can assure you we can store our potatoes for a period of over one year," he said. He said the county government had set aside Sh700 million to purchase road equipment. "We want to supplement what the national government is doing in terms of road construction by having our feeder roads constructed. We are committed to making sure our feeder roads are well maintained so that our farmers can deliver their farm produce to the market,"he said. Other leaders at the tour were Woman Rep Faith Gitau, Ol Kalou MP David Kiaraho, his Kipipiri counterpart Amos Kimunya and Ol Jororok's Michael Muchira. In Meru today, the President will be laying the foundation stone of the New KCC factory in Kangeta, Igembe Central. The project is a brainchild of Munya who last weekend had inspected the earthworks at the site in the miraa growing region. But local leaders said the President was likely to tour a few more projects and hold some roadside rallies before speaking to local leaders at an unconfirmed location. Among those lobbying for inclusion in the programme were miraa farmers who want the President to tour the Muringene market, the first government funded miraa complex whose construction was launched by Kiunjuri days before his sacking. "If he can visit any of the sites of the Miraa crop enhancement projects, it would be a big statement of his unwavering support for the improvement of the Miraa crop," said Kimathi Munjuri, chairman of Nyambene Miraa Traders Association. Igembe Central politician James Mithika, who is also a director at the Kenya Railways Corporation, said Igembe and Meru would be waiting to receive the President. Imenti North MP Rahim Dawood said Uhuru would be warmly received. "I will assure the President that we are looking forward to his being the chief guest at the BBI rally planned for February 15 and to tell him we are fully behind his stand and waiting for his political direction," said Dawood. The MP said Uhuru needed to stay on until he can comfortably manage the Mt Kenya succession. "We will also ask the President to help us complete the Meru town bypass and have funds allocated for the 22 kilometre Meru dual carriage way," he said.
[Allan Mungai, Wainaina Ndung'u, Kennedy Gachuhi and James Munyeki]