Counties agonise over piling 'diaper' waste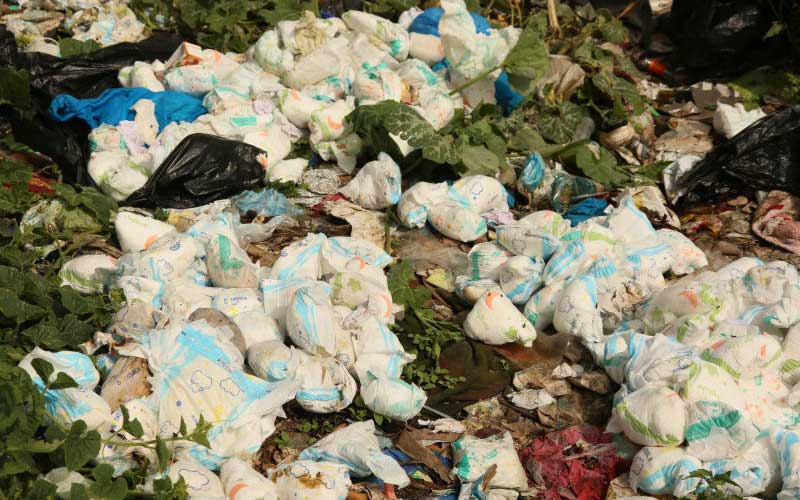 Mountains of soiled disposable diapers are rapidly building in towns across the country, posing a headache to health officials in management of solid waste.
Traditionally, disposable diapers were used for convenience when traveling but they have now replaced washable cloth diapers because of their perceived advantages.
However the increased use of disposable diapers in Kenya is placing a heavy load on already strained waste management sectors with environmentalists saying this is posing great danger than that caused by the banned plastic carrier bags.
The selling point for diapers even in television advertisements is their ability to hold waste for long hours without leaking, but the 'point of uniqueness" is exactly the challenge the country is staring at in future.
In most dumpsites across the country, recycling of solid waste is manageable but diapers which are daily waste constituting a high percentage of the total waste -- have proved to be a challenge.
In some estates, diapers are a nuisance as they are discarded in the open and some being ravished by dogs causing even more danger.
Expensive investment
Disposable diapers are made of synthetic materials which are designed to allow them absorb and retain urine and feaces for long hours without leaking.
ScienceDirect website explains that the absorbent layer contains a polymer material of sodium polycrylates which has a high capacity for bonding with fluids and effectively prevents degradability and/or flushability.
Diapers are disposed of by either burning or burying but that does not completely help in proper disposal as it takes between 400 and 1000 years to break down completely.
Ali Mwanzei, deputy director in charge of field operations at the National Environment Management Authority (Nema) said as much as it is a challenge to the agency as well, poor management of municipal waste makes the situation worse.
"There is no outright solution to diaper menace as at now and neither do we have a lesser pollutant alternative but if there is clear way of putting them together, we would then be open on how to deal with them."
The environment expert said that the innermost material, which absorbs the waste needs temperatures of up to 800 degrees to burn completely and that can only be achieved by using high standard incinerators which is an expensive investment across the 47 counties.
"It is a national and global menace and stakeholders input would be required. I would suggest that the county governments team up and invest on large scale incinerators for particular regions," said the environmentalist.
He noted that poor organisation of municipal waste deteriorates the situation.
At Nanyuki dumpsite, an environment crusader Francis Thuti said he recycles most of the solid waste but disposable diapers have been a challenge for the waste handlers.
Thuti said that he avoids burning of waste due to the greenhouse emissions adding that land-filling is no better option since the polymer does not degrade.
"We have a solution in recycling every other solid waste that finds its way here but the diapers are such a big challenge. It is also a concern on health for those of us handling waste," Thuti said.
He estimated that in every garbage truck taking waste to the site, there are more than 50kg of disposable diapers.
"We have managed to reclaim measurable section of the 114 acres by recycling all solid waste and making compost manure using the biodegradable waste.
"There are diapers that have been buried here for more than ten years and have never degraded," he added.
Most of the diapers dumped in huge amounts at the site are from hospitals, hotels, schools, babycare centres and individual homes.
"Street children are the most exposed because they open garbage bags looking for food yet the soiled diapers are in there.
"They do not understand the health risks they are exposing themselves to," Thuti said.
He suggested a national conversation involving all stakeholders to seek scientific ways of dealing with the diapers.
Kenya Bureau of Standards which is mandated to promote standardisation in the industry says that any diaper manufacturer should ensure that the absorbent filler material is able to absorb fluids.
The agency's managing director Bernard Njiraini admitted that diapers pollution is a challenge, noting that they do not have standard provision on their disposal.
Health conditions
"I agree we have a challenge with diapers because we do not concentrate on their disposal and decomposition. Our role ends at the ensuring their ability to absorb without leaking," Njiraini said.
The MD disclosed that they are in a discussion with Nema over the diaper pollution.
Joyce Wanjiku, the founder of Purity Elderly Care Foundation in Nyeri noted that the use of diapers by the elderly is also on the rise.
Wanjiku, whose organisation deals with the welfare of the neglected elderly people said she currently has 17 women who are on disposable diapers due to various health conditions related with old age.