Uhuru: We'd make Kenya great if we lived up to Rubia's values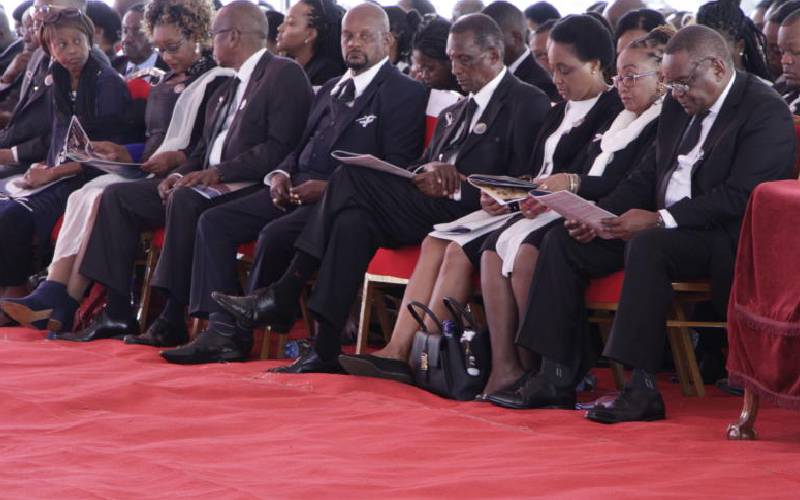 President Uhuru Kenyatta took on political leaders for being corrupt, tribal and selfish, and failing Kenyans by not advancing the ideals that the late Charles Rubia and other multi-party crusaders stood for.
Speaking yesterday at Gituura Primary School in Kandara, Murang'a County, Mr Kenyatta questioned why leaders spend more time on trivial matters instead of serving the public.
"Let me answer some of the leaders who have spoken here. If 10 per cent of us emulated what Rubia, the late Kenneth Matiba and other second liberation heroes stood for, Kenya would totally be a different country now," said Uhuru.
He also took a swipe at leaders that go round the country preaching hatred and wasting precious time.
"The freedom that was fought for is here to stay. Instead of some leaders preaching peace (they are) making empty noise that breeds disharmony among Kenyans," he said.
Fight corruption
Uhuru spoke after Kandara MP Alice Wahome and Kiharu MP Ndindi Nyoro, who are both members of Jubilee's Tanga Tanga team that has defied the president's calls to slow down on politics.
He called on leaders to use the country's freedoms to spread peace, fight corruption and seek justice.
"Rubia's vision was that of selflessness, peace, justice, social order and hard work. Let leaders articulate issues that can make the lives of Kenyans better," he said.
The president added that empty rhetoric would not help his government improve infrastructure, schools, hospitals or crops such as coffee and tea. He decried the effects of corruption, saying the vice is sucking the country's much-needed resources.
"During Rubia's time, Murang'a... had money that it used to do business with the national government in Nairobi. Where has that money gone?" he asked, saying it ends up in individuals' pockets.
Ms Wahome eulogised Rubia as a champion who fought for freedom of speech. She pleaded with the president to ensure that the fears that ruled the 90s do not creep back.
"The progress made in this country should not be watered down by secret phone calls by some leaders," she said.
Murang'a Governor Mwangi wa Iria called on Kenyans to debate the Building Bridges Initiative (BBI) report and offer solutions to problems facing Kenya.
"During Rubia's time, people lost lives, some were detained while others fled the country. But today's government has come up with constitutional proposals and given us the opportunity to engage and right our wrongs in a peaceful way," he said.
Siaya Senator James Orengo read Raila Odinga's message of condolence.
"Fellow Kenyans, I join you in paying the last respects to a great citizen. I have lost a friend and colleague whom I worked with during the agitation for multi-party politics," Mr Odinga said in his tribute.
He eulogised Rubia as a hero who dedicated his energy and time to fight for multi-party democracy.
Daunting task
"He took on a daunting task and pursued it with vigour. I worked with him and can testify that he had firm principles and was ready to defend them at all costs. This cost him his health," said Raila.
He called for a sustained effort to fight corruption and steady the economy.
Mr Orengo said the country is at a critical moment and patriotism should inspire Kenyans to embrace change.
He said Murang'a County had produced a lot of patriots, with Rubia and Matiba leading from the front.
"I plead with Kenyans to talk about BBI. Uhuru has given us an opportunity. Let's seize it. Uhuru said he doesn't care who takes power but is interested in a system that works for all. Let Mt Kenya and the Lake region unite to make Kenya great," said Orengo.
Murang'a Senator Irungu Kangata called on Uhuru to clean up the Judiciary, which he accused of delaying justice for Kenyans.
"The Judiciary has failed Kenyans. I filed Rubia's case for compensation for torture in 2012 but to date, it is still pending in court," he said.
He said the case shows how hard it is for millions of Kenyans to access justice.
"You have fought corruption in the Council of Governors, the Cabinet, but now target the Judiciary. If they can let Rubia's case go on for eight years, what about women and children who have cases in court? Don't approve the appointment of judges to the Court of Appeal," said Mr Kangata.
The leaders were speaking at Kariguini village yesterday where thousands of mourners attended Rubia's burial.
The late Rubia shared a village with freedom fighter Bildad Kaggia who died years ago and had their burial ceremonies attended by sitting heads of State, retired President Mwai Kibaki and President Kenyatta, respectively.
Former Equity Bank Chairman Peter Munga caused laughter when he introduced the Murang'a governor as the "governor of Kenya".
There was prolonged laughter as he apologised for the slip of the tongue.
Fight for freedom
Edith Matiba, in her eulogy, detailed the courage that Rubia and her husband Kenneth Matiba showed as they struggled to introduce multi-party politics despite resistance.
"It took the courage of Rubia and like-minded persons to fight for the freedom we are enjoying today," she said in her message read by Sammy Lui.
Former Nairobi mayor Nathan Kahara said the establishment set up by Rubia in Nairobi helped to transform peoples' lives.
Murang'a County Assembly Speaker Nduati Kariuki, speaking on behalf of the family, detailed concerns that bothered the late Rubia.
He listed among them high levels of corruption, unemployment and drug abuse, and challenged leaders to resolve them.
Murang'a South ACK Diocese Bishop Julius Karanu recounted how he spent a day with Rubia two days before his death.
"Little did we know that he was bidding us goodbye as he inspected a church building he had helped raise funds to facilitate its construction," he said.
The bishop asked Murang'a leaders to follow in the footsteps of the late Matiba, Gikonyo Kiano, John Michuki and Rubia.
"Now they are gone, but we should ensure we have the best among ourselves. The mistake made by Mzee Munga was a justified slip of the tongue as Mwangi wa Iria packages himself like he can be the governor of Kenya," said Mr Karanu.
Educationist Muthoni Likimani noted that the problems facing the country were due to greedy leaders looking for money and grabbing property.