How ATM guards collaborated with fraudster to steal over Sh2.2 million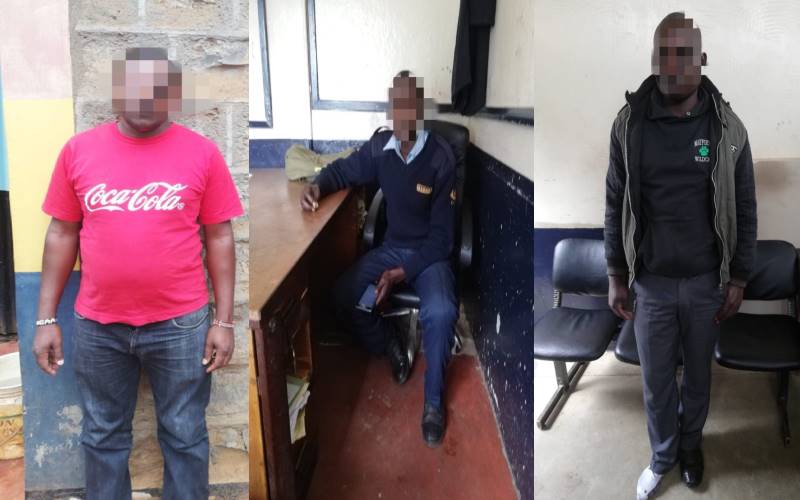 Detectives from the Directorate of Criminal Investigations in Thika arrested a suspected mastermind of identity theft on Saturday, who allegedly fleeced over Sh2.2m through an Automated Teller Machine (ATM).
According to the DCI, Robert Mwaura Mwita recruited security guards manning various ATMs in his thieving ring.
Ironically, the suspect's heists were being advanced by the same people tasked with protecting bankers' money.
It is reported that he would send them secret withdrawal codes to draw out money through accounts of unsuspecting bankers on his behalf.
After withdrawing the money, the guards would then take their share of the loot and send the rest to Mwaura.
Detectives caught one of the guards in the act and videotaped the suspect withdrawing money from Family Bank's ATM in Thika before taking him in.
The two guards identified as Stanley Nyakundi and Godfrey Masinde Simiyu had sent Mwaura over Sh2.2 million in the month of September alone, according to DCI.
Mwaura who is the prime suspect is also linked to various cases of M-Pesa fraud in which unsuspecting members of the public have been defrauded millions of shillings.
The trio is in police custody and are expected to be arraigned in court on Tuesday.
Cases of ATM fraud have been on the rise in the recent past with bank staff suspected to collaborate with security officer and fraudsters to steal from banks' ATM.
The latest casualty of ATM fraud is a businessman in Kisumu whose bank account was swept clean after fraudsters stole Sh229,894 of his total savings shortly after he opened his bank account.
George Omondi, the victim, insisted that the fraudsters were working closely with some bank's staff because he wondered how they knew he had opened a bank account.
"I want the Banking Fraud unit to investigate how the fraudsters knew I had opened the account and how they got my number. Strangely, these things happened too fast. I had not even received my ATM card by the time the thieves struck," said Mr Omondi.
On October 8, 2019, three police officers and two prison wardens were nabbed with Sh268,000 which they could not account for at a KCB ATM in Machakos.
Detectives suspected that the police officers and wardens had collaborated to steal from the bank's ATM.