Gakuru's driver recounts moments after accident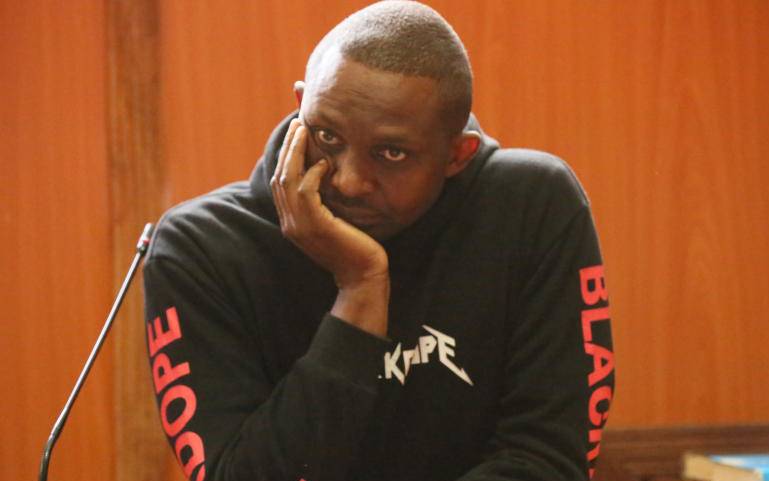 The driver who was with former Nyeri Governor Wahome Gakuru when he died says he accidentally hit a guardrail while avoiding a collision with a speeding lorry.
While narrating the events of the material day, Samuel Kinyanjui Wanyaga told a Nyeri court he swerved to his left to avoid the lorry that was speeding downhill.
Mr Wanyaga also painted a graphic picture of the accident scene, describing how the governor groaned in pain as the guardrail pierced the vehicle from the left hand side.
Vehicle continued
The man, who now works with the Ministry of Health, said he was helpless as the vehicle continued ploughing through the guardrail for about 68 metres from the point of impact.
"After the airbag on my side inflated, I was unable to control the car as I was stuck. My leg remained stuck on the accelerator pedal," he said.
He recalled hearing the Governor gasp "God we are finished!" as soon as the guardrail forced its way through the car, pinning him (Gakuru) to his seat. Wanyaga told Chief Magistrate Wendy Kagendo that his intention was to move to the side of the road to give way to the speeding lorry.
Wanyaga was testifying before the public inquest that after overtaking two saloon vehicles and a lorry, he heard a bang that forced him to return to the inner lane of the dual carriageway.
It was at this juncture, Wanyaga said, that the Mercedes Benz registration number GVN 019A, hit the guardrail at Makenji.
Gakuru died in the road accident at Makenji along Nyeri-Nairobi highway on November 7, 2017. He was 51.
The car had two other occupants – the governor's Personal Assistant Albert Kaguru; and bodyguard Ahmed Abdi – at the time of the accident.
Wanyaga, who was being cross-examined by Senior Assistant Director of Public Prosecution Peter Mailanyi, was put to task as to why he never applied emergency brakes to stop the car.
According to Mailanyi, the vehicle must have been cruising at high speed. Wanyaga, however, denied this, saying he was driving at between 100km/hr and 110km/hr.
Earlier version
This contradicts an earlier version by Gakuru's private aide, who said the chase car, which he was in, was doing more than 130km/hr.
Wanyaga told the court he feared for his life, noting that the public had a perception he was responsible for Gakuru's death.
"I was verbally attacked inside a local supermarket by an individual who claimed I was paid to eliminate Gakuru," the driver stated.
He denied claims by lawyer representing Amana Foundation and the family of the late governor that he was part of a conspiracy by some forces that wanted to kill the governor.