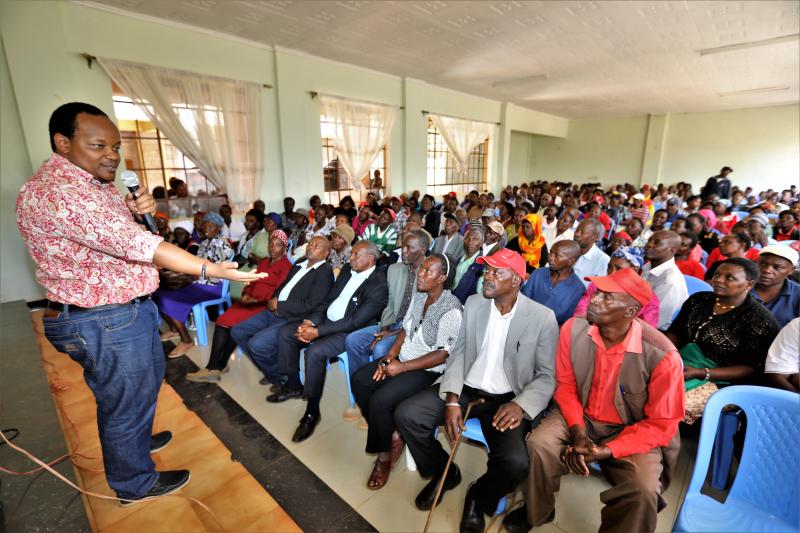 Landowners in Nyeri Town Constituency are protesting the county government's decision to introduce a fresh valuation roll without involving them.
For the past one year, the county through the department of Lands, and Physical Planning has been carrying out valuation of all land within the constituency.
The residents allege the valuation will lead to adjustment of the rates paid byland owners to the county.
A valuation roll is a legal document which assigns a value to all properties in an area with the objective of generating land rates on an equitable basis.
The process of preparing the valuation roll kicked off last year when the government hired a consultant who valued every parcel of land and prepared a draft valuation roll.
Lodge complaints
Members of the public were given 28 days to inspect the draft document and were offered an opportunity to lodge complaints to the valuation roll court before the document is adopted, prepared into a bill and presented to the assembly for debate.
The landowners complained that the value assigned to their land was exaggerated and would lead to an increase in the amounts they pay as land rates.
Others said their freehold land may be targeted in the exercise.
The 28-day window to lodge the complaints with the valuation court closed on April 14.
But now, over 1,000 landowners led by Nyeri Town MP Ngunjiri Wambugu are demanding that the county government involves them in the process.
Mr Wambugu told the residents the process was unconstitutional as there was no public participation.
"We are giving the county an ultimatum to listen to the landowners and involve them in the process failure to which we will hold sit-in demonstrations in the county offices until we are heard," Mr Wambugu warned during a meeting with the residents.
Asha Jama, a landowner in Majengo, said her land had been valued at Sh1.7 million, which translates to Sh60,000 in land rates.
"Majengo residents are beneficiaries of the recent land titling programme. The land is no longer leasehold but freehold. This is unacceptable," she said.
Fresh valuation
Joseph Gatonga, a resident of Riamukurwe Colonial village, said they too have been affected by the process despite their land being freehold.
Wambugu said land issues were emotive and should be handled within the law and with respect for the landowners.
However, Planning Executive Daniel Kwai said the process had not introduced any new rates and would not charge any fees on freehold land.
"A fresh valuation roll may not necessarily mean an increase in land rates but fairness in rates being charged currently," he said.
He confirmed there may have been inadequate public participation in the process, but said they were carrying out civic education to inform the public.