Magistrate wants 'neutral judge' to hear murder case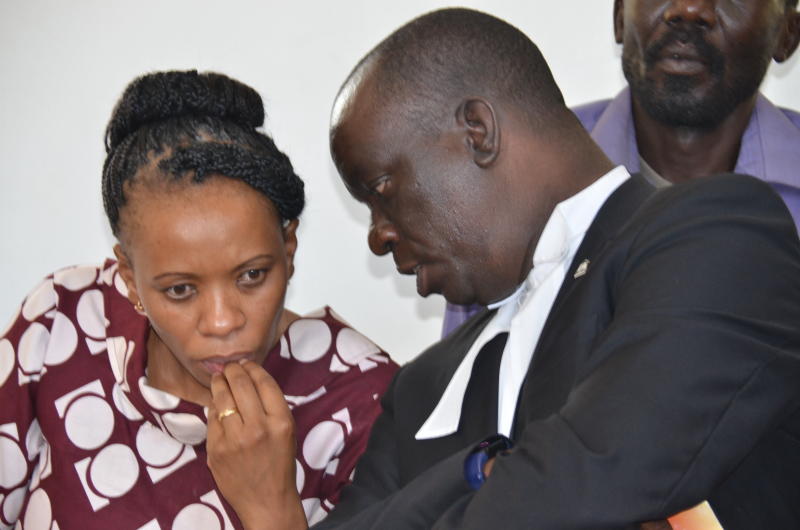 A magistrate, who is charged with the murder of her husband, wants the judge to withdraw from hearing the case.
Nyeri Senior Resident Magistrate Pauline Omung'ala argued that the presiding judge, Justice David Kemei, was from the same tribe as the victim.
Omung'ala is accused of killing her husband Robert Chesang who was a lawyer in Nairobi.
The magistrate and her co-accused, Richard Moru, Lawrence Lempesi and Peter Maundu appeared before Justice Kemei yesterday to plead to murder charges.
"My lord, before I respond I will pray that this honourable court does excuse itself from this matter and defer the plea to another court because the deputy registrar and yourself come from the same community, and specifically from the sub-tribe (as Mr Chesang) and therefore there is apprehension on my part that justice is not being done," she argued.
She continued: "I am not saying that you are tribal, but since there is real misapprehension on my part, my plea is that this case be referred to a judge of a neutral community because perception on how the hearings will be conducted is important."
She was represented by lawyer Osiemo Odero who endorsed her application urging the court to grant her prayers. Mr Osiemo told the court he was jointly appearing for Omung'ala with lawyer Assa Nyakundi who was not present in the court.
Nyakundi is in police custody over his son's death.
Lawyers representing the three other accused persons also expressed willingness to associate their clients' positions with Omung'ala's sentiments.
However, State prosecutor Cliff Machogu opposed the application, saying that taking of a plea alone did not mean that the court would automatically proceed to hear the matter.
"After the plea, (Maisy) can file a formal application requesting the court to excuse itself," he said.
The accused persons later took plea. They all denied the charges.
Kamusinga shine in Coast
Friends School Kamusinga Boys fired an early warning as they edged out St Charles Lwanga of Mombasa 1-0 in hockey.