Gachagua launches re-election bid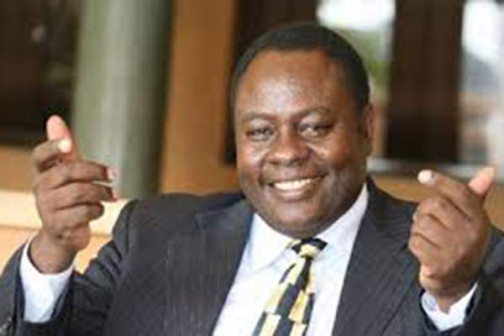 Nyeri Governor Nderitu Gachagua has officially declared that he will defend his seat next year, despite the troubles currently facing his administration.
The embattled governor is currently facing a motion by MCAs to impeach him. Yesterday he hosted over 3,000 voters in his Mathira home and they endorsed his bid for re-election and resolved to support him.
"I would want to say that even though we have had a few problems as an administration due to my ill health, I am still going to deliver on my development agenda in the time given to me," he said.
Mr Gachagua renewed the political rivalry between him and former Mathira MP Ephraim Maina, saying his track record as a Mathira legislator was clearly visible.
"All the projects that I started as an MP were stalled by the former legislator and this is why we cannot allow such leaders who hold personal grudges to take office," he said.
The delegation resolved to vote as a bloc for President Uhuru Kenyatta and Gachagua in the upcoming General Election.
They also asked Gachagua not to front any candidate for other elective positions to avoid conflict of interest, regardless of his relationship to the contenders.
"As Mathira residents we will not front any other candidate for the governor's seat. Therefore, we would like to warn any leaders seeking our support for the position," said Ephantus Mureithi, the Grand National Union's (GNU) elections co-ordinator.
During the meeting, Gachagua formally announced that GNU would join Jubilee Party and would have representatives to attend the merger meeting next month.
He blamed the impeachment motion on County Assembly majority leader Duncan Gituanja and Speaker David Mwangi.
"Gituanja has been leading the rebellion against my leadership at the expense of development and I will not be cowed by the MCAs' actions," the governor said.
He asked Mwangi to be objective and guide MCAs against making abusive comments in the assembly against the standing orders.
"I was a parliamentarian and I know the standing orders and the Speaker has failed to play his role as an objective moderator in guiding the MCAs to adhere to the rules and procedures of the House. This is completely unacceptable," Gachagua said. He slaughtered 12 bulls and hired 50 cooks to prepare food for the 3,000 residents.