18 Chuka University students arraigned in court over chaos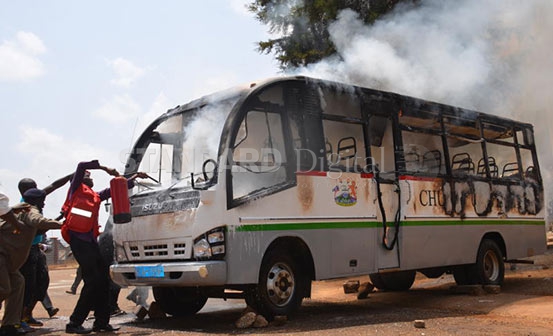 Eighteen Chuka University students are being held by police over Monday's chaos that led to closure of the campus.
The students appeared before Principal Magistrate Alfred Kibiru charged with participating in riots. They however, did not take plea as police asked for three days to complete investigations.
Police asked for more time to interrogate the students over destruction of property and looting at Ndagani shopping centre.
"They will remain in custody for three days as police carry out their inquest and after which they will be brought back to court," Mr Kibiru said.
Area OCPD Beatrice Kiraguri said police would ensure those who participated in the chaos are punished.
"They will be charged with destruction of public and private property as well as causing unrest and disturbances in the institution and its environs," Ms Kiraguri said.
The university was closed indefinitely on Monday afternoon after students went on the rampage following a disputed student's union election. The students will appear in court tomorrow.