Nyeri County government told to step up plans for beatification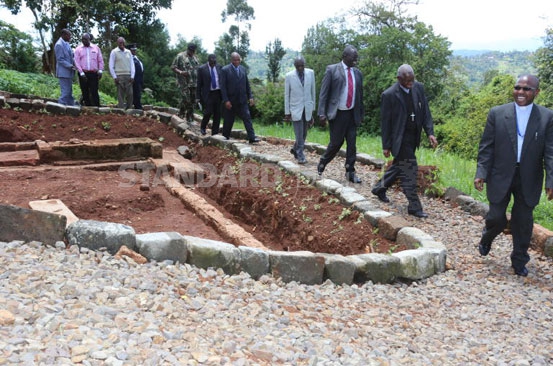 Nyeri, Kenya - Preparations for the oncoming beatification of Sister Irene 'Nyaatha' Stefani have kicked off in earnest in Nyeri County, with a committee appointed to plan the event touring Gikondi and Mukurweini areas last Thursday.
And yesterday, Nyeri County Government met with business people and hotel owners in Nyeri town, where the government came under fire over their slow pace in preparedness.
The hotel owners who met at Greenhills Hotel in Nyeri town accused the county government of failing to make early arrangements in planning for the three-day event that will be held at Gikondi in Mukurweini, Dedan Kimathi University, Mathari Mission complex and our Lady of Consolata Catholic Cathedral in Nyeri town.
"It is unfortunate that even after the church announced as early as last year about the event, the government waited until only a few weeks to the event to start meeting stakeholders," said a hotel owner who sought anonymity.
The trader regretted that the county government is only making plans on how to charge levies, especially parking fees from pilgrims who will flock the area during the beatification.
They should strategise on the success of the event and not the monies they will reap from pilgrims," she said.
Charles Karuga, an official with Mt Kenya Tourism Circuit expressed concerns that local hotels may not accommodate the huge number of faithful expected to attend the event.
"The county government is projecting a population of about 35,000 people while the church is targeting about 300,000. It is a matter of concern since even servicing even 5,000 people is hectic for Nyeri. We should understand that these are not students. They are people who will come to spend and we should think outside the box to make the event a success," said Karuga.
On Thursday, the Nyeri security planning committee, led by Nyeri County Commissioner Michael ole Tialal, Nyeri Catholic Archbishop Peter Kairo and County Administration Police Commander Njue Njagi toured Gikondi Catholic Church in Mukurweini where they also inspected road construction projects being undertaken by the county government.
Elaborate plans
Tialal led the county security team and said elaborate plans are in place ahead of the May 22 to May 24 event.
"We are mobilising enough security personnel to ensure there is free flow of both traffic and humans and also ensuring the event goes on without interferences," said Tialal.
He added: "This is an international event which we cannot afford to hold haphazardly. We do not want to be embarrassed by failing in our plans."
At the same time, regional police Commander Larry Kieng said proper security arrangements have been put in place, which include manning of traffic and human along all roads leading to Nyeri.
"We will set up police roadblocks in all roads coming to Nyeri to enhance security. We are also liaising with our colleagues in Laikipia, Nyandarua and Murang'a among other areas since they will provide us with extra police officers during the event," he said.
Archbishop Kairo observed that it will be the first beatification held in Kenya and Africa, noting that the church is expecting pilgrims from Italy, Mozambique and USA among other countries.
"We have come up with a planning committee chaired by the County Commissioner and we will be touring all venues where the beatification service will be held," said Kairo.
Father Peter Githinji, who is the coordinator of the event, said 600 choir members drawn from the archdiocese and 100 children who will be conducting processional dances have already been trained.
"They met for a whole week at Bishop Gatimu Ngandu Girls High School and we expect them to meet again early next month," said Githinji.
On Monday, the planning team is expected to tour other areas, among them Mathari Mission Complex and Dedan Kimathi University.
On May 22, a service will be held at Gikondi Catholic Parish, followed by the main event at Dedan Kimathi University grounds the following day.
On May 24, a procession will be held from Mathari Central Chapel where the relics of Sister 'Nyaatha' were preserved after the late nun was exhumed in 1995.
The relics of the nun will be taken to Our Lady of Consolata Catholic Cathedral in Nyeri, where they will be preserved in a bullet proof sarcophagus installed two weeks ago.
Sister Irene, who residents of Mukurweini fondly referred to as Sister 'Nyaatha' served at Gikondi Catholic Parish between 1915 and 1930 when she died in her bed.
John Mbuthia, 95, who is among the few surviving residents of Gikondi who met the nun, termed her as a passionate sister who loved children. She will be beatified to Blessed during the three-day event.