Kenyans scramble for share of billions in gaming industry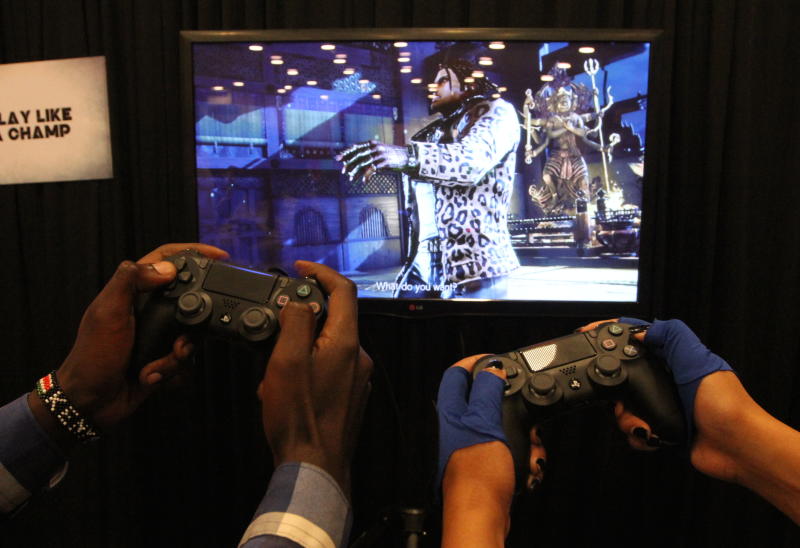 The narrative about millennials and the amount of time they spend on smartphones and in front of screens has been the subject of many debates. However, this trend, variously labelled as lazy and anti-social came under sharp scrutiny when the global E-sport 'world cup' was held last month and participants stood the chance to pocket millions of dollars in what would easily be a money-minting reality in this virtual world.
A gamer with Sound proof ear muffs and control pads behind closed doors could be a multi-millionaire, at least in Kenyan currency, in the making, with most popular gaming consoles being the PlayStation and X-Box.
This softening of perception has been further boosted by research showing that gaming could be good for brain development, contrary to previous perceptions.
In Africa alone, the number of active video gaming players stood at 23 million in 2014 and by 2018 the figure had skyrocketed to 500 million, largely due to the rise of smart phones. Social/casual gaming is now bigger than traditional gaming and growing much faster.
"Africa E-sports Championship is Africa's first and only proper E-sports league - currently running in 24 African countries and growing. We want to change the African narrative and create economic opportunities for Africa's youth by building a vibrant and sustainable industry that builds on what the west has been doing for 20 years, but taking insights on creating best business practices and most important, making it African. We don't want to find our children playing western games exclusively in 10 years - we want western games to be a part of the game play but we surely want to see African games competing on the global playing field," says Tilomai Ponder the CEO and co-founder of What's Good Studios.
While the video gaming industry is valued at USD $150 billion (Sh15trillion) the African games E-sports tournament games are yet to get to par with the rest. But the local gaming landscape has transformed tremendously, supported by the presence of high-speed Internet connection and gaming cafés and tournaments that have set up base in various parts of the city to tap into the fast burgeoning number of online gamers.
Kenya is now ranked the eighth most popular gaming hub in Africa
"All we need to do is make African E-sports tournament games at international standards (to) put Africa on the map," Ponder points out.
The traditional gaming sector is more established in Kenya and will enjoy greater year-on-year gains in absolute terms for the foreseeable future. This in part due to a strong Internet café culture as a result of reliable access to fixed broadband, according to Entertainment and media outlook: 2018 – 2022 publication.
The Kenyan market was worth US$63 million (Sh6.51 billion) in 2017, and will grow at a projected 13.2 per cent CAGR (compound annual growth rate) to US$118 million (Sh12.2billion) in 2022. Social/casual gaming is the fastest-growing segment in the Kenyan market and will grow at a 21.2 per cent CAGR over the forecast period according to the same study.
At the beginning of last year, Google accepted payments M-Pesa service on its Google Play apps and games store. This was particularly significant because Android leads Apple devices in Kenya, as it does in other emerging markets across Africa.
This lucrative venture has seen gaming arcades spring up in the Nairobi city centre where gaming enthusiasts get to pass their time while indulging in professional gaming. These spaces are more than comfortably set up with couches, enough personal space and lively colours brighten up the joint as well as state-of-the-art equipment.
Last week, Safaricom launched an e-sports tournament in partnership with Pro Series Gaming (PSG) and Standard Group, for youth aged between 18 and 26 who are looking at gaming as a career choice.
"People from all over the world are making a living out of professional gaming, which is why we have introduced an e-sports Tournament, to affirm to the youth that you can commercialise whatever skills and talents you have. Our commitment is to support the youth in their journey to economic empowerment, however unconventional it may be," said Michael Joseph, Safaricom CEO.
The e-sports tournament will consist of FIFA 19 and Tekken 7 knockouts running on Play Station 4 and will be broken down into 10 grassroots knockouts and five regional finals. At least 64 players will enter at each knockout round, with cash prizes are up for grabs.
The most common games played around include Fifa and PUBG Mobile, which is taking off fast due to PUBG bringing servers to Africa, which will increase playability and competitiveness due to the reduction of 'ping'- lag time that hinders online gameplay in tournaments.
Mortal Kombat, Call of Duty, League of Legends are slowly catching up. Tekken and Street Fighter are mild fighting games compared to the intense and somewhat gruesome Mortal Kombat, which makes these titles more widely acceptable.
The E-sports gaming not only creates jobs such as players, casters, content creators among others but also it acts as a revenue generation not just to players but to the government as well through taxes.