Border wars: Families in agony as fishermen kin detained in Uganda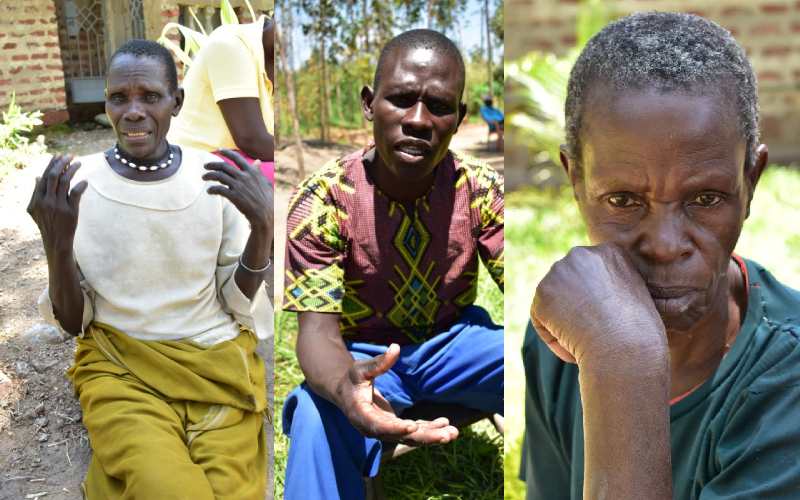 Eveline Auma, 30, is distraught as she narrates the sad turn of events for three Kenyan fishermen detained for four months now in neighbouring Uganda.
Auma, who hails from Budala village in Budalangi Constituency, has been travelling to and from Uganda's Bugiri Police Station to visit the three - George Onyango, Patrick Juma and David Mwari - and fears they are wasting away in the foreign land.
"My in-law just returned this morning from Bugiri in Uganda to check on them. He says they are frail and yearning to be released because they don't know why they were arrested. The probability of them dying in a foreign land is real," she says.
"We have sold our valuables and even held fundraisers to get money to free them but nothing seems to work for us," she adds.
Onyango, who is Auma's husband, was arrested alongside Juma and Mwari on October 29, last year.
Following the arrest, Auma says she was forced to take over the responsibility of fending for her eight children. Four of them are orphans she had adopted.
When the trio's fishing trade was thriving, she used to purchase their catch, smoke the fish then sell at a profit. However, her business is now on the verge of closing down as most of her profit is spent on efforts to free the three detainees.
Boniface Onyango and Evans Ogombo, relatives of the fishermen, had just returned from Uganda when we visited Auma. They told The Standard they spent the weekend in Uganda and returned by night bus to Busia on Monday morning.
The trip, they said, is one of several they have made to Uganda to beg for the release of their kin.
In one such trip to Uganda, they tagged along a Kenyan top delegation, including former Busia County Commissioner John Korir and other county security officials, to bargain for the release of their kin who were among 30 fishermen arrested in October.
"Interestingly, 27 fishermen detained in Namaingo and some of their fishing gear were released to the Kenyan delegation," said Onyango.
"Kenyan authorities also freed Ugandan fishermen it had detained for trespassing into the Kenyan waters of Lake Victoria," he added.
However, the three were not released, and only a promise to set them free was given. That was on January 2.
But according to Onyango, the promise has taken too long to materialise, causing them anxiety.
"Mwari is very ill and he is not eating. He revealed on Sunday that he has not been taken to hospital and I genuinely fear for his life.
"The only medicine we are allowed to give him is hope since no medication is allowed from visitors to the Bugiri detention," said Onyango.
Ogombo, Juma's brother said they have approached several authority figures in Uganda trying to get the detainees released, but with no success.
"Our efforts have exposed us to middlemen who ask for bribes to facilitate their release," said Ogombo.
As Onyango and Ogombo keep engaging the Ugandan authorities, the detainees' families have been in constant communication with the local administration pleading for intervention.
They allege their relatives were arrested in Kenyan waters and tortured by several people. Among them was Mohamed Mwanje, a man posing as a Ugandan officer, who handed them to Ugandan authorities.
"Mwanje has been troublesome to Kenyan fishermen and seems to have colluded with Ugandan forces to run an extortion syndicate in the waters.
"He dons UPDF regalia and makes arrests. If you don't bribe him, he hands you to Uganda authorities with trumped-up charges," said a fisherman who did not want to be quoted.
Mwanje is currently out on a Sh1 million bond after he was charged with harassing and stealing from Kenyan fishermen in December.
He faces the charges in Busia law courts alongside Twinamasiko Bram (A UPDF officer), Joseph Masereka and Peter Oboo who Kenyan authorities arrested in Lake Victoria in December.
Commissioner Korir remembers freeing the Kenyan fishermen from Uganda after a series of structured dialogues because most had committed minor offences.
"Most could not tell where the borderline between the two countries cut in the lake and some had illegal fishing nets," says Korir, adding they could not advocate for the release of every detainee because each case had unique particulars.
Assistant County Commissioner for Busia County, Grace Ouma, said they are following up on the case.
"They were not freed with the others because their case was a little bit different. The good thing is that we are in talks and the three will be freed soon," she said.
Nzomo Mutuku retires from RBA
In a statement to newsrooms RBA's chairperson, Victor Pratt announced that Mutuku who has worked with the parastatal for over 22 years will proceed on