Women eke out risky living in Bungoma's murram quarries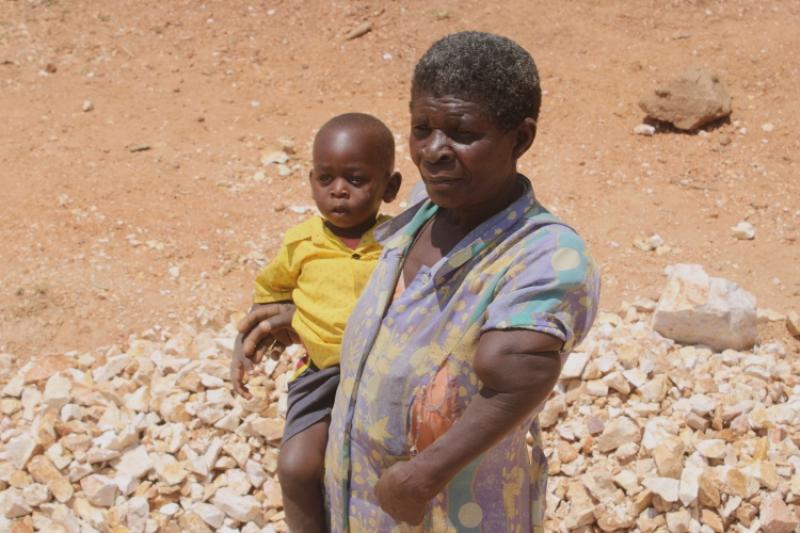 Petronilla Nyongesa, 63, and three other women are busy hammering away at rocks in a murram quarry at Musikoma in Bungoma County.
It will take them at least five excruciating hours to break up a 'stubborn' boulder they have been chipping away since morning.
They are some of the hundreds of women who work at the quarry, most of them single mothers and widows, in defiance of gender and social norms.
This is the only work they know that helps them make ends meet. And it is despite the harsh working conditions and dangers they expose themselves to everyday.
"I should huge responsibilities as a mother and I must work in the quarry to be able to fend for my children," said Ms Nyongesa.
She is clearly alive to the risks that come with the job, after a boulder crushed her left arm. But Nyongesa has an ailing daughter at home who needs medicine, and grandchildren that need looking after.
She is married but says her husband cannot work due to his advanced age and ill health.
"I am not doing this work because I like it but because I am forced to. I lead a miserable life considering I have a sick child and husband whose medication depends on the little savings I make. There is also school fees and many other bills I must foot," Nyongesa told The Standard.
She says working conditions at the quarry are harsh "yet I have no option but to soldier on." "Crushing stones is not a simple task especially for a woman. We work under the hot sun, which makes it even more difficult to work for long hours as we get drained and dehydrated easily."
Nyongesa also decried the poor pay despite the backbreaking nature of the work. "Whatever we take home every day is not commensurate to the work we do. Brokers offer too little money for the murram we make from the crushed stones," she said.
The women also go about their work without protective gear, which explains why she injured her hand.
On a good day, Nyongesa crushes three wheelbarrows of murram. "I sell each wheelbarrow at Sh80, translating to a paltry Sh240, which is a drop in the ocean," she says
The murram is sold to brokers who collect it from the quarry for sale to building contractors at a higher price.
Gertrude Juma, a 66-year-old widow, is also a victim of the accidents that occur at the quarry. She was hit by a boulder on the chest and nearly died. The incident left her with a huge scar.
"I have been battling health complications as a result but there is no way I will quit this job. I must continue working so that my children can have something to eat.
"I am lucky to be a live today, I wonder how my children would survive in my absence," Ms Juma says.
The women are now calling on the county and national governments to help them acquire protective gear and necessary tools of trade.
"Let them link us to buyers who will not exploit us. Better still, they can help us get better jobs so that we can take care of our families," said Nyongesa.