John Nzenze: Music legend who left many with a 'twist'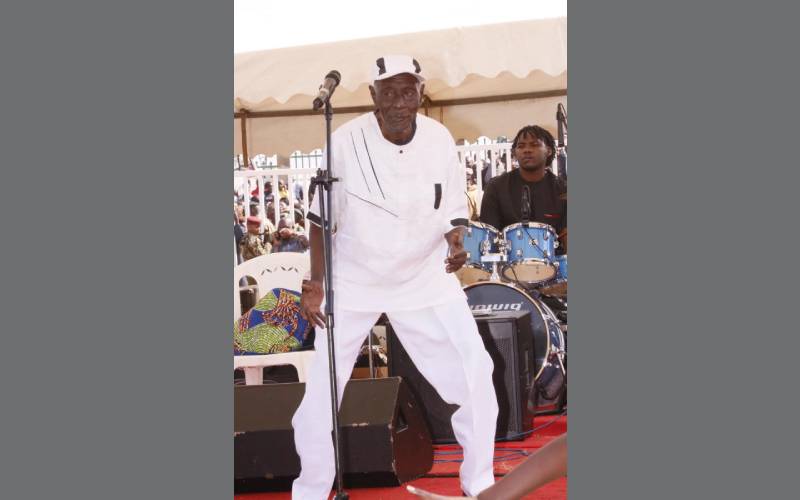 In his 1961 classic twist Angelike, legendary singer and guitarist John Amutabi Nzenze pours his heart out to his estranged lover Angelike as he charms her back into his life.
He implores her lamenting their unfortunate breakup, this having been his first love affair. A twist dance tangle had them falling for each other.
If we were still living in the Nyayo era, entertainers of Nzenze's caliber would be the ones highlighting today's Madaraka Day celebrations, an elaborate affair that would feature cultural dancers from different ethical setups and school choirs in a myriad creative bonanza.
We would be expecting rib-cracking presentations from the Vitimbi TV drama crew, Vioja Mahakamani, Muungano Choir, Maroon Commandos and the Angelike singer, who was arguably the last Kenyan twist music style veteran.
Back then, it was all about patriotism when it came to making an impression before the president during such epic national ceremonies. Nzenze was of the sort of thrillers.
What a great day this would be to celebrate Nzenze, the veteran artiste who died on Saturday while receiving treatment at St Elizabeth Hospital, Mukumu. He had been at the Kakamega-based facility for a month as he battled hypertension and stomach ulcers.
The musician had been diagnosed with prostate cancer some time back. According to family sources, the popular Benga crooner had been operated on four weeks ago on his prostate, and was recuperating well before his situation deteriorated on Friday leading to his death on Saturday.
"John Nzenze was a veteran singer who was among the first bunch of Kenyan artistes to popularise the twist genre or what we would still refer to as Benga across the world. He was a patriot who was also among the first Kenyans to grace international festivals with the unique Kiswahili lyrics that flew the Kenyan flag high," says John Katana, also a pioneer singer with Them Mushrooms.
A rather stirring and charming singer, guitarist and dancer, Nzenze captured the imagination of many in the early 1960s when he and other singers recorded songs in Kiswahili, away from local dialects, ideally to get a wider audience through radio play. At the time, he lived in Muthurwa, Nairobi, and would often get performance sessions at the Norfolk Hotel where he worked.
Natural talent
His talent was quite natural as he had grown in a musical family where his father was a guitarist. At the age of 12, he was already strumming the strings.
Hit songs such as Julieta rudi tuone and Habari za Nairobi are among the big numbers that propelled him into regional limelight even as he teamed up with Daudi Kabaka, another fallen music icon, with whom he recorded popular hit Masista, Bachelor Boy and Nyumba za Tobacco - all released by Jambo Records.
"These were the real pioneers of the Kenyan music industry and we all ought to celebrate them for their brevity especially in being patriots who became ambassadors of our country to the world through positive songs about Kenya," applauds Japheth Kassanga, also a veteran musician and the chairman of the Music Copyright Society of Kenya (MCSK) where Nzenze once served. Kassanga, a celebrated gospel singer, says Nzenze made extraordinary achievements that only few African singers of his days could equal.
"Their lyrics carried strong messages touching on societal issues and they were not lured by Western culture as they remained firm in doing songs and acts that represented their culture and society," he said.
"Back then, the entire Kenyan urban lot was dancing to Helule Helule, Harambee, Msichana wa Elimu, Lunchtime Nairobi and Angelike among other hit songs by Kabaka, Nzenze, Laban Juma and Gabriel Omollo among others.
That was the sound in town. I was happy when Nzenze got a Head of State Commendation award by former President Mwai Kibaki too," affirms music composer and former MCSK chairman Michael Maganzo.
Twist stars
True to it, music opened doors for the Luhya star. His popularity in East Africa opened doors to tours in Japan and Britain among other countries.
After representing Kenya at All African Music Festival in Algeria and finishing third in 1968, President Jomo Kenyatta feted him and his Air Fiesta Matata band with an invite to State House.
After this, Emperor Haile Selassie invited Nzenze to perform in Ethiopia. He led his band in major international performance in Germany – where they performed with Miles Davis who consequently arranged for them a tour of America.
Cutting their niche as the 'Kenyan twist' stars, in 1971, Nzenze and his band were awarded the BBC World Service Best Band in Africa. It was after this that the Julieta rudi tuone man left his group and embarked on a solo career, mostly decorated by his performances at Panafric Hotel where he played for tourists.
But as the years went by and his strength faded with age catching up, he later retreated to his Kakamega backyard where he would play in local clubs almost a forgotten hero.
"I recall hits such as Marashi ya warembo, Maoni ya twist, Kumbuka nyumbani and Wanawake kuwakimbia mabwana as some of the big numbers that are still fresh in people's minds. This kind of music defies age. It cuts across generations," Kassanga added.