Retirement blues: Unlike footballers, rugby players don't 'omba serikali'
THE STANDARD INSIDER
By Bethuel Oduo | Jul 10th 2020 | 5 min read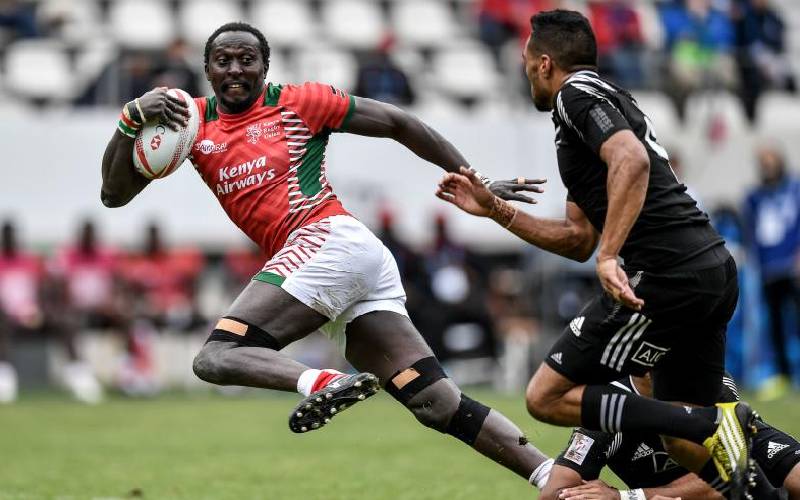 Have you ever wondered why there are fewer retired rugby players who live in penury in slums or are vegetating in shags? Unlike footballers, rugby players retire in relative creature comfort and hardly fundraise for rent or medical bills. Most hardly sink into alcoholism, which speeds up premature ageing and with it, opportunistic illnesses.
The difference lies in the way the two sports disciplines are pursued and how their stars are socialised.
For starters, the rugby tradition and culture in Kenya is deeply rooted in the former colonial-era schools, also called 'Cinderella schools.' They historically admitted sons of top civil servants and corporate honchos. These are boys who enjoyed the privileges of being socialised differently in their upbringing. Many inherited the good things in life, which helped them adopt a superiority complex, a sense of entitlement. They basically had a head start in many aspects of their lives.
Nairobi School, Lenana School, St Mary's School and Rift Valley Academy, are the pioneer rugby schools. It should not surprise anyone that Alliance High School has few alumni in the league of rugby legends in Kenya. See, from its base in Kikuyu Town, Alliance High School was steeped in the Pentecostal Christian orientation and focused more on academics. It also drew its students from all over the country based on merit and nothing else.
On the other hand, those who were admitted to Nairobi School, St Mary's or Lenana were sourced mostly from technocrats in government, politicians and top civil servants. Attending these schools meant assuming mzungu mannerisms for good measure.
It also meant belonging to a club of the privileged. Joining these schools was a signature of belonging to the boys' network. Networking beyond school and using your surname for good measure came naturally. At independence, the sons and daughters of 'modernised Kenyans' held each others' hands and ensured none of them was condemned to poverty or intended failure. In any case, there was always family inheritance and heritage for immediate support.
Rugby players are groomed to be professionals in whatever they do. They are pushed to attain the highest level of education since parents who are also role models can afford it anyway. That gives them the opportunity to be professionally engaged in their later lives as doctors, lecturers, management experts, software engineers or consultants in the NGO world.
Footballers are drawn from schools that were established to fill gaps in the education sector. Some were called Government or Harambee schools. Nowadays, they are known as CDF schools. They were mostly poverty-driven with basic facilities. The easiest game they could quickly adopt was football. Coming from poor backgrounds, they have no networks or head start in anything. They do not inherit wealth or professionalism because their parents are mostly blue-collar workers. In any case, most times, there is nothing to be inherited anyway. Most footballers are first-generation educated people in their families. Their parents are normally workers or servants who report to managers or directors from the rugby-playing families.
Football administrators do not help matters. They are usually not refined, are rough around the edges and start their journey from an impoverished position. This is the opposite of what happens in rugby, whose officials are mostly former players or alumni of Cinderella schools.
JJ Masiga is an example of a rugby player who got into football by sheer luck. He was drawn into AFC Leopards by his uncle Dr Walter Masiga, who was the club's chairman. Maybe left on his own, he would otherwise not even found his way to the City Stadium because he was from the other side of town.
Footballers are drawn from blue-collar workers who have no idea what professionalism is. Their offspring are raised as community children with no individual upbringing or attention. They are not taught how to invest or save for the future, and they inherit nothing from their parents. Footballers are forever caught up in the web of poverty. Their ambitions are not nurtured and they are satisfied with the bare minimum effort in wealth accumulation. They grow up wild and disoriented, with football coming in handy to help distract them from being social misfits.
The retirement life of a rugby player and a footballer is like a contrast between day and night. Most Kenyan footballers die without driving or owning a car or house. Rent becomes their biggest nightmare and that is why we come across cases of them being homeless and desperate. They die of depression or alcohol abuse. They use these as escape routes from their misery. Comparatively, the retired rugby player, suffers from alcoholism by choice. Some are taken through rehabs simply because the family networks can afford it.
One of the easiest measures of success for former rugby players is the way they become ardent golfers after retiring from rugby - JJ Masiga, Dennis Awori, Evans Vitisia, Danny Kimoro, Joe Onsando, Ken Nyangaga, Cliff Mukulu and Tom Okech are regular names in golf circles. It comes naturally to rugby players to belong because they are socialised to belong to clubs. Their parents probably belonged to the same clubs which were patronised by mzungus. Rugby teams have club houses where membership is regulated by a set of rules and requirements for admission. These clubs are basically networking forums.
Very few former footballers pick up golf in retirement. Without mentioning JJ Masiga, David Okello, Owen Nandi and Jones Ndombi, there are few examples of retired footballers who play golf.
Trying to explain why a retired rugby player seems to be just fine after retirement can be summed up by the saying: "Rugby is a game of ruffians played and watched by gentlemen, while football is a game of gentlemen played and watched by ruffians." Rugby fans do not throw stones at opponents when their teams lose. Football fans are known the world over for their run-ins with riot police. It follows.