What you need to know about this girl, Yemi Alade
STANDARD ENTERTAINMENT
By Steven Muendo | Jun 1st 2018 | 6 min read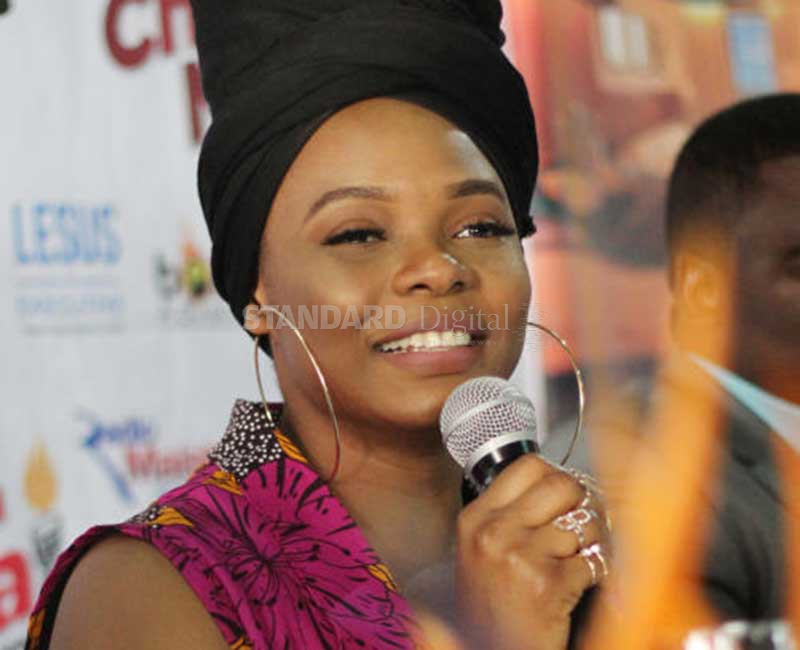 Spotting black trousers, a trendy blue denim jacket and her now trademark stunners; Yemi Alade emerges from the International Arrivals exit of the Jomo Kenyatta International Airport (JKIA). It is her third time in Kenya in a span of five months. This is a route she knows well.
She looks pensive and laid back, her usual bubbly demeanour and glittering smile amiss, her long artificial dreadlocks, a black Magic Johnson cap and eye-covering glasses are what welcomes us. Understandably, this is a star who has been in flight for hours, and besides the exhaustion from a series of concerts in her world tour, she is clearly jet-lagged. For months now, her life has literally been a journey.
"I feel a bit tired and in need of a little rest. I have some flu," she says her voice a bit sunken, her tone feeble. She lends a little smile and a handshake before her manager leads her to a waiting Range Rover, in which she warms into the back left and the chauffeur gears up. That was on Tuesday evening when the Nigerian singer arrived for the much-hyped Choma na Ngoma Festival that went down last night. This was a music extravaganza held at the Kenyatta International Conventional Centre (KICC) ahead of today's Madaraka Day celebrations. Not a weak or lazy soul, the singer recovered quite fast at her Ole Sereni Hotel residence and come Wednesday morning, the good ol' upbeat Yemi was back, energetic and rearing to go. With multiple media interviews and a rehearsal to conduct, nothing seemed to distract her focus, not for last night's concert in which she had promised to stage the show of a lifetime.
Like many musicians across, Africa such as Diamond and Alikiba from Tanzania and her fellow Nigerian stars Wizkid, Davido, Tiwa Savage, Don Jazzy and Tekno Miles, Yemi Alade has had a firm focus on Nairobi, arguably the African city where all singing stars make the most money. She is in the country for a record seventh time since her first major single, Johnny, made her a household name across the region after it was released in 2013. In fact, such is her love for Kenya that she refers to Nairobi as her second home and to prove it, she has recorded a number of collabos with Kenyan musicians such as Nyashinski, whom she featured in last year's Swahili single, Nakupenda, and Sauti Sol, who she featured in her 2016 hit, Africa.
"I go where the love is; the people, the warmth, the welcomes are very heart-warming I must say. I am always excited to be in the presence of Kenyans," she tells Pulse.
"I go where the music takes me. As for Nyashinski and Sauti Sol, I was a fan of their music before I even got to work with them.
"Recently, I was here for Victoria Kimani's music tour. Being the friends we are, we have been trying to promote female to female love and that are why I dedicated myself to support her," she says. Having started her music journey at such a young age, the 1989-born, the fifth born in a family of seven, won the Peak Talent Show in 2009 before she got signed under the Jus' Kidding music stable where she released her debut single Fimisile. By 2012, she had moved on to Effyzzie Music Group where she recorded Ghen Ghen Love, a single that enjoyed dismal success. However, after releasing Johnny in 2013, the singing beauty blew up and became a continental name attracting fame and fortune across the continent. The Selebobo-produced song opened the gates for her into Kenya where she later performed the song in Nairobi at Ngong Racecourse during a successful concert organised by Taurus Musik. Come the following year, Yemi released her debut album King of Queens.
"It was a humble start I would say. The journey has been steady but sure. It has not always been easy one but I thank God for everything. Besides, my passion for music keeps me moving," says the soulful voiced lass who surprised many by bagging a BET Awards nomination for the Best International Act: Africa in 2015.
2016 was a good year for Yemi. She had just won the coveted MTV African Music Awards – Best Female category, when continental glory came calling.
Upbeat, she chucked the Na Gode single to massive success. Then with a bang, she launched her second album Mama Africa, a collection that had the hit track Want You, one of her leading favourites up to the present time. A continental music star, the new African singing queen received six nominations in the WatsUp TV African Music Video Awards thanks to Want You and Ferrari. She affirmed her position as the African queen of music by reclaiming the MTV African Music Awards – Best Female category. She maintained the momentum, using the first months of last year to put together her third album, Black Magic, a project that came with tracks such as Knack Am, Heart Robber, Get Through This (featuring Mi Casa) and Single and Searching. Bum Bum, her latest release has turned to be another continental hit. "I have just completed my international tour that saw me stage concerts in seven European countries including Spain, Poland, Germany, Finland, Netherlands and Sweden. Strange enough, wherever I went, Bum Bum was the most received song and it is not strange it already has hit eight million views on YouTube within two months," a jovial Yemi comments.
"My journey right now is that of losses and gains, ups and downs, victories, name-calling, blessings and all. It is never stable," she remarks.
"Working with a team also helps, because it is important to ride with the people when they are resilient, innovative and share a common vision and goal with you. An artiste cannot do it alone."
To her fans, Yemi is easily likable. She is a darling. She exudes a friendly happy girl demeanour and she is easily sociable. A talented vocalist and songwriter, she fuses her creativity and stage energy during performances and gives the performance her all. Her trademark dance moves, especially her latest Bum Bum moves, are irresistible. Commanding masses in her concerts, hardly does she disappoint. Besides, she likes pushing the envelope and is never shy to show a little more. Yes, she is witty seductress.
And it is this versatility combined with the likable mien that has won her millions of fans across the world with all her videos hitting millions of views on YouTube. This has created jitters among her competitors especially in her home country, some of whom are not sitting pretty watching her earn showbiz bragging rights, attracting millions in concert payments, power command and endorsement at their loss. Close in this see-saw game is Tiwa Savage, the Mavin Queen, who, before Yemi, was seen as the Nigerian indisputable pop queen.
Even though Tiwa Savage does not release music in such a frequency as Yemi, her music style and maturity has always given her an edge against the rest. Songs like Bad, her 2016 release featuring Wizkid and Sugarcane were both youthful and seemingly aimed at the same crowd Yemi commands. She then released the Get it Now Remix, featuring Omarion, and crossed to Kenya to do a song with Sauti Sol, Girl Next Door, songs that were released back-to-back in April and May, this year.
As it seems, this might not be a bother to Yemi as she says that everyone is running their own race. "Tiwa came before Yemi but Yemi became popular. Right now, I feel that we are at different levels and that trying to make a comparison between us would not be ideal."
"I am glad that I have a story team that works with me and that I am a strong believer in God. That is what keeps me going," she says.
"I would say that music is my life. It's all I am doing at the moment. However, in the next two years, I plan to launch a clothing and accessory line, a ready-to-wear urban men's and women's wear. But for now, let's focus on music," she responds when asked what else she occupies her time with.
"Besides, like I said, my love for Kenya is big and I am working on a number of projects with artistes here. One of the projects includes a collabo I am working on with Willy Paul. You will be the first ones to get the details once it is all set up," she concludes.
Banks deny wrongdoing in NYS theft
Tough questions have emerged on the role played by commercial banks as enablers of money laundering in the Sh9 billion National Youth Service scandal.