Safaricom eyes future with 5G mobile network launch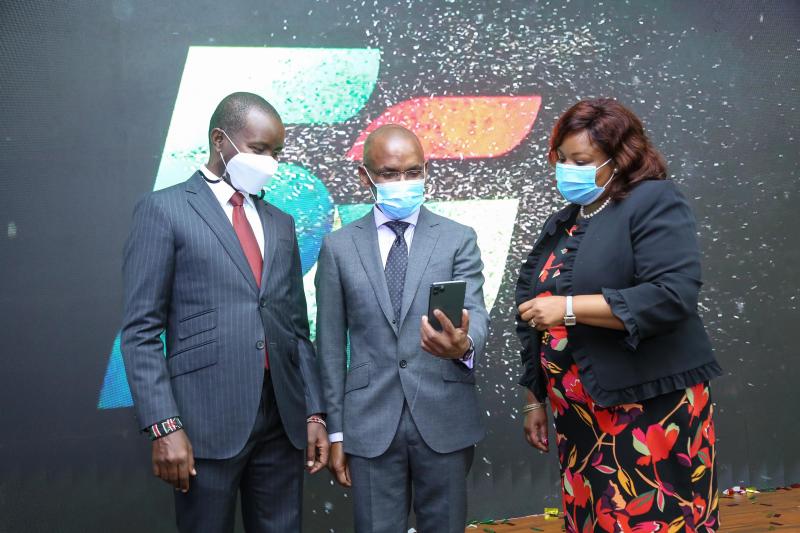 Safaricom on Friday launched a fifth-generation (5G) mobile network, which it expects to pay a critical role in driving the company's growth over the next decade.
The 5G service, the first in East Africa, will be available in Nairobi, Kisumu, Kisii and Kakamega.
Safaricom said it will increase the number of towns with access to the 5G network to nine, served by 150 sites, over the next 12 months. It expects the network to be an alternative in areas where it is yet to roll out fibre optic cable.
Company Chairman Michael Joseph said the new network would set up the firm for growth as had the predecessors of 5G.
He said Safaricom invested in 3G and 4G at a time when many, including industry players, doubted the viability of the investments, especially in a market such as Kenya.
"In 2007, we launched 3G. Our competitors then said Kenya was not ready for 3G but here we are today with 4G and soon it will become 5G," he said.
"We have always been at the forefront of innovation, not because we love to play with new technology and devices but we genuinely believe that this brings enormous gain to Kenyans."
Mr Joseph said people will still question the rationale behind deploying the network at a time when many telecommunication firms, even in developed economies, are yet to roll it out.
Take a quick survey and help us improve our website!
Take a survey
"Even today, we might look at 5G and ask, where is the benefit? We could say 4G is enough. It is about the benefit to the economy," he said.
Safaricom has partnered with Nokia and Huawei, despite the latter's challenges with governments in the US and the UK that have claimed that networks built by the Chinese firm are a threat to their national security, with the US terming the firm "untrusted and high-risk".
While the company did not disclose how much it has spent on licence fees as well as on the 5G infrastructure, Joseph said they have continuously been pumping money into the project with the future in mind.
"Safaricom has invested a lot over the past five years. People talk about us being dominant in the market place but do not talk about the investments. We have possibly invested ten times more than our competitors have invested," he said.
The 5G network can support heavy internet traffic at super-fast speeds. For instance, it can support up to a million connected devices per square kilometre compared to 4G which can only support up to 100,000 connected devices in a similar area.
This makes 5G suitable for providing Internet in high-density areas and for linking thousands of connected devices such as in manufacturing and supply chain management for businesses.
It can, for example, enable a user to download a high definition movie in under a minute depending on the size.
Such functionalities will, however, come at a substantial cost.
To access the high speeds, users will need to either upgrade their phones or acquire 5G-enabled modems.
The 5G mobile phones Safaricom said are in the market today or will be made available in the coming months cost upwards of Sh60,000.
Safaricom Chief Executive Peter Ndegwa acknowledged the cost could be a barrier to entry. Citing past experience, Mr Ndegwa noted that new technology tends to be expensive but prices reduce with time.
"With new technology, the users could be fewer at the beginning but as we test and expand coverage and use cases, we expect the experience will be better and also the cost will come down," he said.
"This is a leading-edge technology and initially handsets may be expensive but over time as we have seen with 4G they become affordable."
He added that the firm has in the recent past been trying to increase the number of 4G handsets through a scheme where subscribers can give a downpayment of Sh500 and pay the balance over time.
Safaricom subscribers with 4G phones are about 20 per cent, an indication that the network is underutilised.