Cheers as Kenya's first satellite sent to space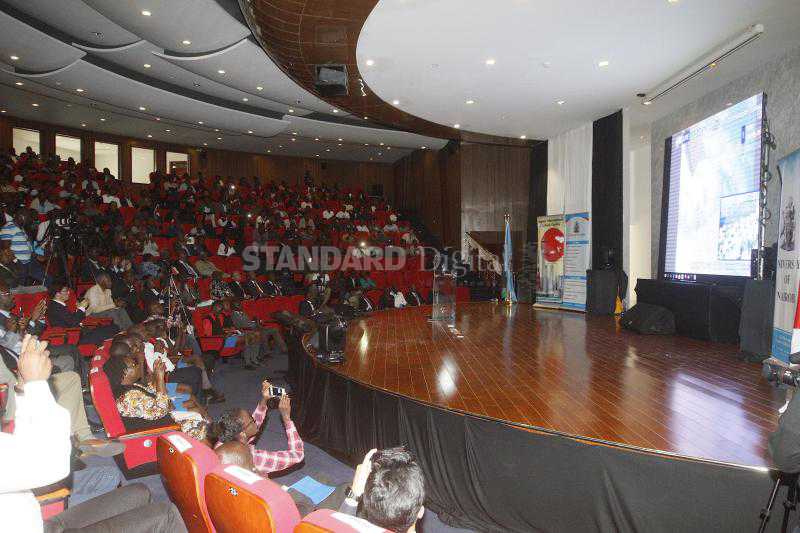 At exactly 1.30pm on Friday, history was made as Kenya deployed her first satellite into space.
The satellite built by the University of Nairobi was deployed to orbit the earth from the International Space Station (ISS) in a ceremony broadcast live to an audience at the university's Chandaria Centre for Performing Arts.
Named the First Kenya University Nano Satellite – Precursor Flight (1KUNS-PF), the miniature satellite has potential of conducting commercial space missions that previously required large satellites.
Disaster management
"It will assist in earth mapping, earth observation, land use and environmental monitoring, weather forecasting, communication, disaster management, coastline and border monitoring and management of forests, livestock and wildlife," UoN Vice Chancellor Peter Mbithi said in an earlier briefing.
In a statement read on his behalf by Education CS Amina Mohamed, President Uhuru Kenyatta said the venture by the scientists at the University of Nairobi marks the beginning of Kenya's foray into space science. Japanese astronaut Norishige Kanai pressed the button that released the nano-satellite on its journey round the earth. Dr Kanai is on a six-month mission aboard the ISS.
The journey to yesterday's historic events began in 2016 when the University of Nairobi won a United Nations Office for Outer Space Affairs (Unoosa) grant to develop the satellite with the help of Japan Aerospace Exploration Agency (Jaxa). The announcement of this grant was made during the sixth Tokyo International Conference on African Development (TICAD) held in Nairobi in August 2016.
Conquer outer space
The university's project development team, led by School of Engineering Dean Mwangi Mbuthia, handed over the the cube satellite to Jaxa in January 2018. Jaxa then transported it to the International Space Station – from where it was deployed to orbit the earth yesterday.
"The satellite has a life-span of between 12 to 18 months, after which it will de-orbit and burn up," said Prof Mbuthia.
The satellite cost approximately Sh100 million to develop. And with the pressing of a button yesterday, Kenya's bid to conquer the outer space began.
"The successful deployment of 1KUNS-PF heralds the next phase for Kenyan scientists and engineers to develop bigger high resolution satellites with serious scientific and technological value," said Prof Mbithi.
The university says it will recruit masters and PhD students with passion for space science to join the satellite design and mission operating teams.
The 1KUNS-PF was part of three small satellites deployed into space yesterday with the help of the Japanese, the others belonging to Costa Rica and Turkey. In Africa, Kenya becomes the third country to deploy a satellite into space with the help of the Japanese, after Nigeria and Ghana.
"It is inspiring to see development partners from different corners of the globe – like Japan and Kenya - united in a scientific and technological initiative like this one," said acting Japanese Ambassador Yoshihiro Katayama.