Land register to use Bitcoin technology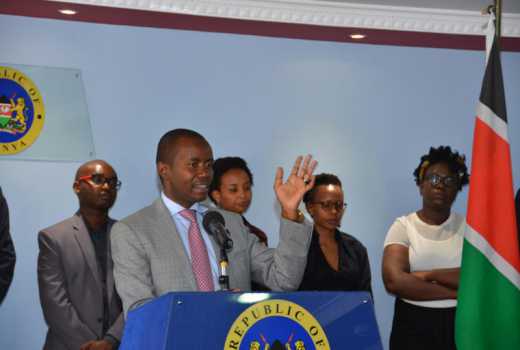 The Government is working on a blockchain database aimed at weeding out fake title deeds from the land registry.
Known as the single source of truth (SSOT), the database will be the primary reference for all land transactions.
ICT Cabinet Secretary Joe Mucheru said SSOT would ride on blockchain technology, or a distributed ledger which allows for all transactions to have some kind of 'public witnesses'.
So if you sell land, that change of ownership is underwritten by all the institutions in the system.
Mr Mucheru said this when he unveiled an 11-member taskforce on Distributed Ledgers and Artificial Intelligence.
Source of truth
"At the moment, there are people who come up with fake title deeds and all manner of things. We need to create a single source of truth, which we are already working on as Government," he said.
The taskforce will be led by former ICT Permanent Secretary Bitange Ndemo and will include Juliana Rotich, co-found of Ushahidi, Stephen Chege, who is Safaricom's Director of Corporate Affairs, John Gitau, Mahmoud Mohamed Noor and Charity Wayua.
Others are Elizabeth Ondula, John Walubengo, Lesley Mbogo, Fred Michuki and Micheal Onyango.
A distributed ledger is a database that is consensually shared and synchronised across a network spread across multiple sites, institutions or geographies.
In the blockchain technology, which underpins the controversial digital currencies such as bitcoin, the distributed ledger consists of several computers which see and record any transaction that takes place within the network.
"If you say this is your piece of land, we should be able to say whether that is you or not," added Mucheru.
He said the function of the database will be made easier by digitisation of all title deeds. The SSOT would extend to verifying ownership of any document including birth certificate, driving licence and marriage certificate.
It will also come up with centralised procurement of ICT products and services, and create a digital country.
This would go a long way in creating efficiency, transparency and openness which are critical for President Uhuru Kenyatta's Big Four Agenda which consist of job creation, food security, universal healthcare and low-cost housing.
Portland net loss widens to Sh970m
East African Portland Cement reports Sh970m after-tax loss in six months ended December 31; company to continue with restructuring plan.