Google device plunges into a miraa farm in Igembe Central, Meru prompting talk of aliens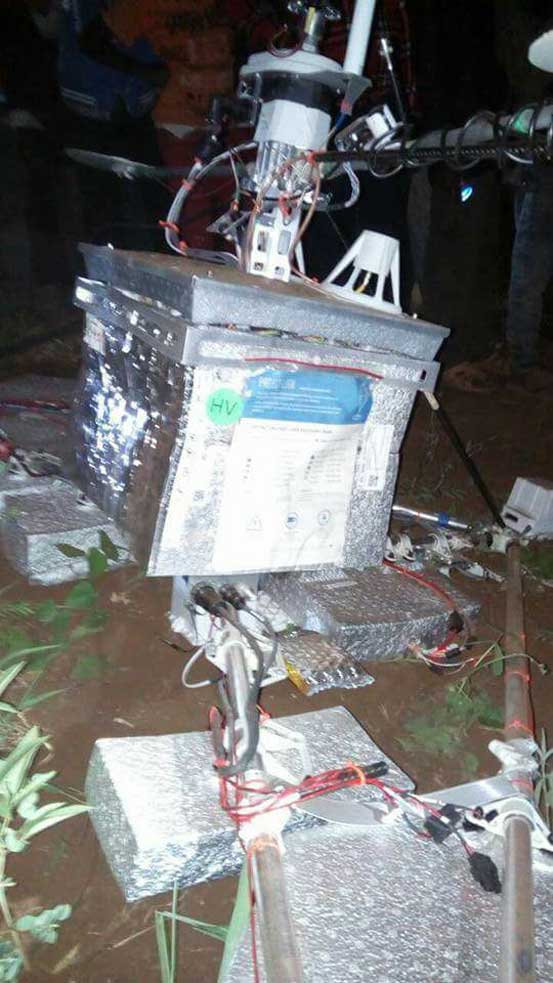 A device identified as equipment from a Google internet–boosting balloon fell from the skies into Igembe Central, Meru County on Friday evening sparking fears of an alien invasion.
Google is an American multinational technology company that specialises in Internet-related services and products. These include online advertising technologies, search, cloud computing, software, and hardware.
In Kenya the company is synonymous with its popular internet search engine.
The device fell at Kaberia Lawama's miraa farm in Nthambiro village on Friday evening after which locals called local radio and television stations with talk of the end of the world.
The device from Google's balloon-hosted, high-speed internet service known as Project Loon is believed to be part of 10 balloons deployed in July 2017 for testing in a wide area between Nakuru, Nanyuki, and Nyeri and Marsabit counties.
Igembe South OCPD Jane Nyakeruma, whose area also covers Igembe Central, said nobody had been injured in the incident and no damage to property had been registered with the police.
Locals said the device had an advisory message indicating that it would crash after six months and contacts of the person to be informed in case of the eventuality.
The device is made of two main radio transceivers on each balloon which can provide coverage to a diameter of about 80 kilometres and is meant to provide internet services to remote areas.
According to Wikipedia, "Project Loon is a research and development project being developed by X (formerly Google X) with the mission of providing Internet access to rural and remote areas."
The project, writes the digital encyclopedia, "uses high-altitude balloons placed in the stratosphere at an altitude of about 18 km (11 miles) to create an aerial wireless network with up to 4G-LTE speeds."
Wikipedia reports the project was named Loon, "since even Google itself found the idea of providing Internet access to the remaining 5 billion population unprecedented and "loony"".
"The balloons" writes the Website "are maneuvered by adjusting their altitude in the stratosphere to float to a wind layer after identifying the wind layer with the desired speed and direction using wind data from the National Oceanic and Atmospheric Administration (NOAA)"
According to Wikipedia, "users of the service connect to the balloon network using a special Internet antenna attached to their building. The signal travels through the balloon network from balloon to balloon, then to a ground-based station connected to an Internet service provider (ISP), then onto the global Internet.'
The system aims to bring Internet access to remote and rural areas poorly served by existing provisions, and to improve communication during natural disasters to affected regions.
Google was founded on September 4, 1998 in Menlo Park, California, USA. Its CEO is Sundar Pichai and its headquartered at Mountain View, California, United States.