Consumers turn to mobile apps for weather information
SCI & TECH
By Ben Mann | October 31st 2017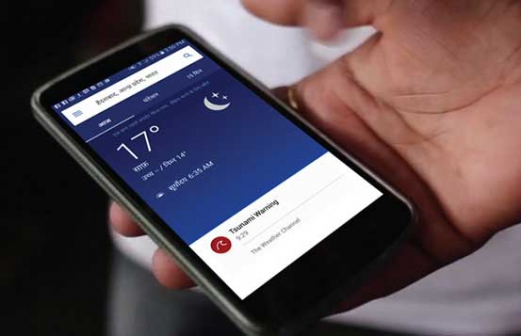 NAIROBI, KENYA; Weather affects every area of the economy, and analysing it can help both consumers and organisations make better decisions.
In fact, weather is the largest external swing factor in business performance. Variations in conditions are responsible for nearly $500 billion in economic impact in the U.S. alone each year, according to the American Meteorological Society.
Yet, many businesses either don't have a weather strategy or base their analytics on conditions at the nearest airport, not their actual location.
The ability to check weather on mobile devices has changed how consumers, as well as businesses, think about the weather. Both groups want forecasts that are "hyper" local, to better serve their needs and plan for weather events. East Africa for example has one of the world's highest population growths with extremely rapid urbanisation.
Its population and economy are heavily reliant on rain-fed agriculture. It is therefore extremely vulnerable to drought, heavy rainfall and flooding.
The Weather Company, an IBM Business, is the world's most accurate forecaster, according to a report from ForecastWatch.com, with the biggest network of personal weather stations. The Weather Company offers precise, personalised and actionable weather data and insights to millions of consumers and more than 3,500 businesses, delivering more than 25 billion forecasts daily for up to 2.2 billion locations worldwide.
In February this year, launched a mobile application that will provide Kenyans with weather updates even when cellular networks are down. The Weather Channel App was targeted at developing nations prone to natural disasters and is available in Kenya and 21 other countries.
The app that was launched utilises "mesh technology" which allows smartphones to continue communicating with each other even when there is no mobile network signal.
Localized weather can enable precision analytics for various industries, which include:
Agriculture: The World Bank says the agriculture industry represents $3.17 trillion annually, making it the largest industry in the world. Weather affects the entire agribusiness chain, whether it is determining which seeds are most effective in certain soil conditions, helping farmers decide how much water to use for crops, or deciding how many crops to raise based on weather conditions at a hyper local level. Precision agriculture based upon weather analytics is becoming even more important. As arable land around the world continues to decrease, the demand for food is expected to double by the year 2050.
The Airline Industry: With 70 percent of all flight delays attributed to the weather, the airline industry benefits from critical weather insights for 50,000 commercial flights per day. At the same time, analytics can indicate how weather conditions, such as strong winds, will likely affect runway configurations, airliner congestion or taxi times. Weather insights can also help airlines plan the most optimal flight routes, optimize fuel and determine the best schedules for ground and flight crews.
The Insurance Industry: Weather incidents cause more than half of all insurance claims, according to insurer The Travelers Companies. Hail causes about $1 billion in damages to crops and property each year. However, precise, hyper-local forecasts about severe weather, such as hail, lightning, strong winds, and tornadoes, can be provided to an insurance company's customers. If customers get text alerts that hail is predicted in their location within the next 30 minutes, for example, they have an opportunity to move their vehicles under shelters. After a weather event, the analytics can also help insurers determine the best way to allocate internal resources to assist customers who were affected.
The Retail and Consumer Product Industry: Weather influences everything from staffing in stores to what products to place on the shelves. By adopting a weather strategy, a retailer could learn which conditions affect product sales, often in surprising ways, such as cloudy conditions resulting in higher chocolate sales or wind speed affecting body lotion sales. Weather analytics can also help retailers ensure they have adequate staffing based on similar conditions in the past.
Cognitive computing can help enable more informed business decisions. The use of Watson for weather forecasting is part of the continued push toward cognitive systems that can intelligently analyze both historical and current data to extend global seasonal forecasts to seven months. By collecting data from all available individual forecast sources and intelligently blending them together by using Watson, both businesses and consumers benefit from more accurate weather forecasts.
The writer is the COO – IBM East Africa