The 'ground aeroplane' is used to campaign for President Uhuru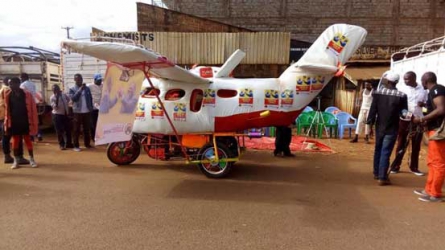 KIRINYAGA, KENYA: Two brothers in Kigaa, Runyenjes constituency, have built a "ground aeroplane" that they are using to campaign for President UhuruKenyatta's re-election.
The contraption is assembled from a modified rickshaw covered with canvas designed to imitate the front, the fuselage and wings of a small aeroplane.
A single turbine at the front, and scores of blinking lights at various sections give the machine the look of a real aeroplane.
Though it cannot fly, the contraption has captured the attention of the residents who throng in their hundreds to get a close look of how an aeroplane appears on the ground.
It was dream come true for Cyrus Njiru aka Prof Maximum and his brother James Muchangi after President Uhuru Kenyatta recognised their effort and rewarded them.
The President sent the two brothers Sh500,000, which was delivered to them by nominated MP Cecily Mbarire.
Mr Njiru's inspiration to build aircraft was borne by troubles he experienced while on a work tour of South Sudan.
Njiru, who is an acrobat, was performing in Juba when violence erupted and many Kenyans flew home but he was stranded there as he had no air ticket.
Fortunately, he later secured a seat in small aircraft that flew them up to Wilson Airport in Nairobi.
As he left the airport, his mind was fixated on how he could construct a similar craft and earn a living from it.
He sold the idea to his brother Muchangi and after a lot of soul searching they settled on a "ground airplane" that could be used for entertainment.
"We spent more than Sh100,000 to construct the 'airplane'. We assembled the things we required and started working on it in May. It was ready in June at a time when campaigns were in hot gear and we decided to use it to campaign for President Kenyatta," says Njiru.
The "aeroplane" is emblazoned with campaign posters of the President as well as those of local leaders such as Governor Martin Wambora and Mbarire.