KCB refreshes banking app to enhance capabilities, safety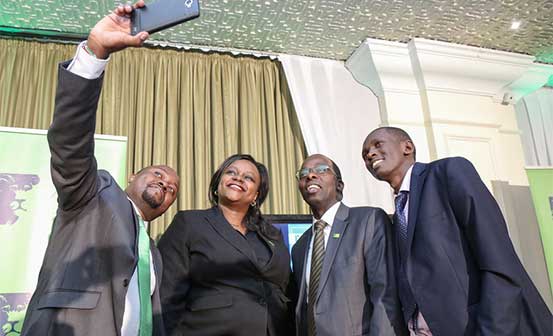 NAIROBI, KENYA: Kenya Commercial Bank has refreshed its mobile banking application to enhance its capabilities and guarantee tighter security features as the lender deepens its digital banking agenda.
With the new look App, users are able to perform a wider array of transactions ranging from paying utilities, transferring funds across accounts and banks and making e-commerce transactions among other capabilities. Through the KCB App, users are able to make utility payments such as Water and Electricity payments, with bill reminders set to remind the customer when the bill is due. The KCB App allows users to make money transfers through KCB Mpesa, SWIFT EFT and RTGS. Through the App, users are also able to pay school fees to over 2,000 schools across Kenya through 'Lipa Karo'.
The KCB App—which is available in Kenya and Rwanda— now boasts of a solid encryption that is set to safeguard and protect our customers' details (identity & financial information), as the app requires a password before any transaction can be made. A user can also use the App to block a stolen or lost debit or credit card.
"The KCB App, as currently designed is set to revolutionize banking. It is one of the key pillars of our digital banking strategy, grounded on our belief that the future of financial services is digital. We believe that technology-based platforms have the potential to significantly accelerate any financial service proposition and we have seen this happen before," said Samuel Makome, KCB Group Chief Operating Officer.
"We continue to make deliberate investments towards digital financial services to complement the traditional brick and mortar model that was in yesteryears the hallmark of banking. We have continually rejigged our digital strategy to align it with the global direction of flight as far as technology is concerned," said Mr Makome while launching the App.
The App also features the latest news, a budget tracker and a currency converter for customers and non-customers alike. Customers get to enjoy the effective e-commerce platform that allows you to pay for goods and services from partners such as Jambojet and Jumia. This is a big plus for travelers and investors in the stock and money markets. From the App, users can access real-time stock market prices and forex rates.
The App allows customers to conveniently access affordable loans (Mobiloan) through their mobile phones. Customers will be able to choose the duration that is convenient for them to pay back the loans which range between 1 month, 3 months and 6 months. It has also embedded the KCB MPESA feature, allowing customers to activate their accounts, save and borrow through the platform.
Launched in the Kenyan Market in April 2015, the KCB App has attracted over 200,000 downloads so far across Android, IOS, Blackberry and Windows devices. As a sign of its continued popularity in the market, the App is ranked 10th on Google Play Store for Android in Kenya, making it the highest rated banking App in the East African region. Using a GPS locater, a user can locate the nearest branch, ATM and KCB Mtaani agents. With every transaction through the App, customers will now be able earn Simba Points—loyalty points that are redeemable for goods and services at specific outlets.
Latest Bank statistics show that through the App, customers are already moving at least Ksh1 billion monthly and handling at least 20,000 transactions daily, highlighting the continued adoption and appreciation of mobile technology in banking.
Mr Makome said the refreshed App will go a long way in bolstering KCB's play in the digital banking space, riding on mobile technology. Today, KCB's business is quickly moving to mobile. Of the 11.4 million KCB customers, at least 9 million are mobile phone-based accounts or are in a way linked to the mobile phone. Of the over 45 million transactions handled since the beginning of the year to date, at least 15 million, or a third, were on mobile. In its way of supporting Kenya's dream of becoming Africa's Silicon Valley as far as technology innovation is concerned, KCB tapped a local a local mobile solutions firm Kocela to develop the App. By reaching out Kocela, a firm that has carved a niche for itself in the mobile app space, KCB has lived to its resolve of supporting local small and medium entrepreneurs who we believe are Africa's conglomerates of the future.
KCB Bank has been a leader in the digital banking space as Google has identified the KCB App to be featured in an exclusive world-renown study, named "Think with Google" which is a source for insights, trends and research on the best brands in the world. "Mobile technology has taken charge and made the value of money dissolve into an SMS, basic enquiries ubiquitous and credit offered faster than ever before. Those who have been able to master it and have a basic understanding of financial services have been able to build new models, new businesses and new revenues from the basic fundamental of making things simpler for a customer, " said Mr Makome. "With this in mind, we have made it a priority to invest in innovative projects that will ease banking for our customers to make our services seamless," he added.