Mombasa tipped to be region's internet hub after IXP launch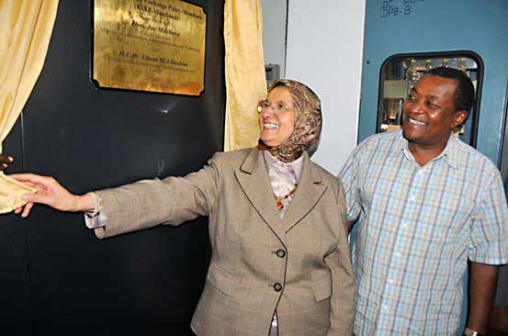 Dr. Elham unveil (L) and ICT PS Victor Kyalo at the launch of Kenya Internet exchange point back up site in Mombasa
NAIROBI, KENYA: Mombasa is poised to be the region's Internet Exchange Center after a new Internet Exchange Point IXP Back Up site was launched in the coastal city on Thursday.
The IXP is the brainchild of Technology Service Providers of Kenya (TESPOK) with funding from the African Union to improve the experience and speed of sending and receiving data as well as bringing down internet costs.
The infrastructure was launched by Dr. Elham M. A. Ibrahim AU commissioner for Infrastructure and Technology.
Elham expressed satisfaction at the speed by which internet connectivity is growing in the region and reiterated her organization's commitment to improving the size of the region's exchange points. "We are encouraging stakeholders to come up with similar projects. We will always partner with them to ensure that internet service improves," she said.
She said that stakeholders are looking forward to seeing more exchange points coming up in keeping up with technological advancement around the world.
TESPOK CEO Fiona Asonga was grateful that the AU had funded the exchange point which will greatly improve service in the region.
"We are encouraging the government to support ICT Development in the country by initiating projects that improve service provision," she said.
Principal Secretary in the Ministry of Information, Communication and Technology Mr. Victor Kyalo said that the ministry was keen on enhancing local connectivity and revealed that the country's growth in the internet sector was competing with the most technologically advanced countries in Africa.
TESPOK board chair and Telkom Kenya Chief Services Officer Kebaso G. Makogi explained that among the benefits of a local IXP will improve regional traffic. "We no longer have to rely on the exchange center from far away Amsterdam or even Nairobi to Communicate locally. That will no longer be the case as we will not rely on remote centers again," he said.
The new internet exchange center that has been newly unveiled is equipped with a 100mbps, 1GB bps and 10GBbps ports. Members are required to connect on ports to the TESPOK main switch, where the amount of traffic is determined by ports which members pay for.
According to TESPOK CEO, Fiona Asonga, the region will no longer be required to suffer the trombone effect when trafficking in the internet, a term that refers to the internet flow in a network with stretched overlapping domains, usually the main culprit for slow internet traffic.
Bank launches US dollar denominated pre-paid cards
Ecobank Kenya Limited on Thursday rolled out its US dollar denominated Pre-paid Cards to offer the Kenyan public a safe, convenient and easy way to travel without the hassle of carrying foreign exchange.