LG G4 smartphone offer rare mix of tradition and innovation
SCI & TECH
By G Kiongo | December 3rd 2015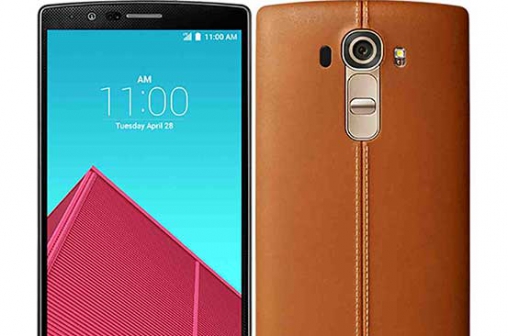 Most cellular phone makers are all about current trends. This year's trend has been about skimping on width — the in phone is the slim phone — as well as using some form of metal or glass in construction.
LG know a thing or two about building an impressive smartphone, which is why this year's launch of its flagship LG G4 was greeted with excitement.
Last year's phone had quirky, clever implementations of what we consider norms in a phone — it had rear-mounted power and volume buttons, for instance — so the tech community was looking forward to this year's release.
However, the many leaks that preceded the phone's launch seemed to suggest the phone would be made of plastic. It seemed LG had missed the trend memo, disappointingly. But trends didn't matter after I held and used the phone.
Build: The LG G4's construction is a mix of curved plastic and a removable leather backing — a ceramic-coated plastic back is also available. The leather is what LG calls vegetable-tanned, full-grain leather; it may be quite a mouthful, but it certainly looks good in any colour you choose. It is complemented by the stitching and metallic trim of the rear-mounted buttons.
The backing provides a better grip, feels premium and stays cool when everything else gets warm. You will find yourself picking up this phone more than you necessarily need to. And unlike with glass or metal backs, leather is not a fingerprint magnet and is not prone to scratches.
The G4 also has a slight curve that follows the contours of most of our faces when held up to the ear, making the mundane experience of speaking on phone feel more natural and comfortable than holding a flat brick.
Display: The next big feature of the LG G4 is its screen. At 5.5 inches, it's bigger than its main rivals — such as Samsung's Galaxy S6, Apple's iPhone 6 and HTC's One M9 — but still within the average size-range for a flagship phone. It also means its side bezels are super thin. The screen itself is a quad HD Quantum IPS display with excellent sharpness and side visibility. It renders vibrant colours and really deep blacks.
Performance: The LG G4 comes with a six-core Snapdragon 808 processor with 3GB of RAM and a base storage of 32GB, with the option of a removable microSD card. LG shied away from the typical 2015 flagship processing package, which comprised an eight-core snapdragon 810 processor due to overheating issues. Its processing package will, nonetheless, handle whatever tasks you throw at it smoothly.
LG also decided to maintain, unlike its main rivals, the flexibility of a removable microSD card and battery — which is good news for heavy phone users as instead of lugging around cumbersome power banks, you can just swap batteries when you run out juice.
Power usage
The power usage, however, is efficient, and the G4 supports Qualcomm's quick charge, a feature that enables your phone to charge from 0 to 60 per cent in just 30 minutes. Unfortunately, the phone does not come with a quick charger, so you will have to cough up a few extra thousands of shillings to get one.
Another missing feature in the G4 out of the box is wireless charging. Unlike its main rivals, the G4 does not allow you to place the phone on a compatible power puck or mat — you have to fiddle with a power port.
Software: The design of LG's main user interface can be improved by downloading one of the many launchers available in the Google Store. The phone firm has thrown in quite a set of useful features, including a resizeable on-screen keyboard that can be adjusted to fit the size of your hands, dual window features that allow you to multitask on the phone, and security features like a knock code (a lock screen alternative to patterns and numeric codes).
Camera: Going by the saying, 'Save the best for last', let's talk about the G4's camera. This 16MP shooter is an engineering marvel. At its core, it features an f1.8 aperture lens that is great for low-light shots, coupled with laser autofocus that helps the camera focus fast and accurately.
It also features a colour spectrum sensor that always gets the white balance of your phone right, and its zoom is incredible. It's a fast camera to get to as you can double tap the volume-down button to quick start it.
In automode, the camera takes crisp, vibrant and lively photos — the kind your Instagram followers will love and hate at the same time. It encourages you to take photos at every turn. It also features a manual mode that allows you to play around with the settings. It is no wonder this camera has been touted as one of the best Android cameras ever.
In all, the LG G4 is a deliberate mix of tradition and innovation, and you can tell that instead of following the trends blindly, someone somewhere thought this phone through. Let's wait and see what surprises are in store for us when LG launches the G5 next year.
The writer is a tech enthusiast. [email protected]
Techno Brain, Fuzu targets jobseekers, students with new job solutions
Techno Brain, a leading African IT solutions provider, has partnered with Fuzu, a career development and recruitment platform provider to develop skills and competencies that will boost the employability of job seekers and students, both in Kenya and in the wider east African region.