Molo family in tears as couple, son buried and three still in hospital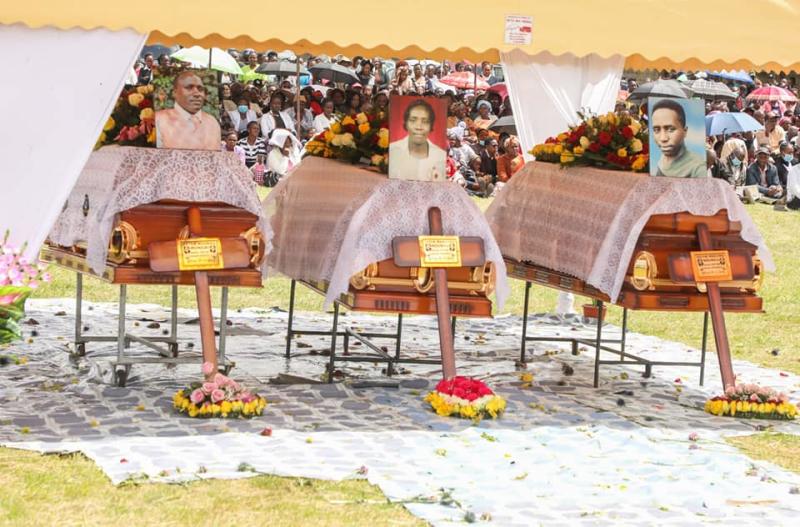 Tears flowed freely as a Molo family buried three members who died in a road accident.
Peter Ndung'u, his wife Lydia Wanjugu and their lastborn son, Kelvin Ndegwa, died last Sunday on the Nairobi-Nakuru Highway.
The couple's son Joseph Mungai, who survived the accident, braved the pain of injuries to attend the burial just days after he was discharged from hospital.
His wife and their two children are still admitted to the Kijabe AIC Hospital.
He said the life of his parents had been cut short just when he had started a family.
"Dad, Mum, bro, words can't explain how I feel now. You made me the gentleman I am today. You have left when I needed you the most. I will truly miss you so much. I will carry on your legacy," he said during the funeral service at the Molo Academy Primary School.
Ndung'u had worked at the school for 29 years as an accountant. His wife worked at Pyrethrum Board of Kenya, while Ndegwa was a student at the Kenyatta University.
The parents were escorting Mungai and his family back to Nairobi after the Easter holiday at their Molo home when their vehicle collided with lorry at Kimende.
Ndung'u died on the spot, while his wife and son succumbed to injuries at the hospital.
"This was the most heartbreaking moment for us as a family. One of the granddaughters is still in the ICU, but two others are responding well to treatment," said George Muchiri, the family spokesman.
He thanked the community for support.
Peter Njuguna, a neighbour, described the couple as peaceful, adding that they had lived well with their neighbours for over three decades.
Nakuru Governor Lee Kinyanjui condoled with the family, describing the loss as heartbreaking for the family and the county.
"The exact pain of losing three members of a family at once cannot be told by a person other than the affected relatives. We know it is extremely painful. We share in your grief and pray that you find solace," said Mr Kinyanjui.
The governor appealed to motorists using the highway to exercise caution to spare families such agony that at times robs them of their bread winners and leave children orphaned.
"It is saddening that only one member of the family is now surviving because of a mistake that may have been avoided by the other driver. We should not be in a rush," he said.
Area MP Kuria Kimani described the deaths as a blow to the Molo community.
"The Molo Academy fraternity has lost a man who was always there to serve the students. His wife had a great impact in the society as a mother. Their late son is an alumnus of this school. The loss is too much," said Mr Kuria.