Basic need so elusive: Residents left to scramble for dirty water with livestock
RIFT VALLEY
By Fred Kibor | Oct 16th 2015 | 2 min read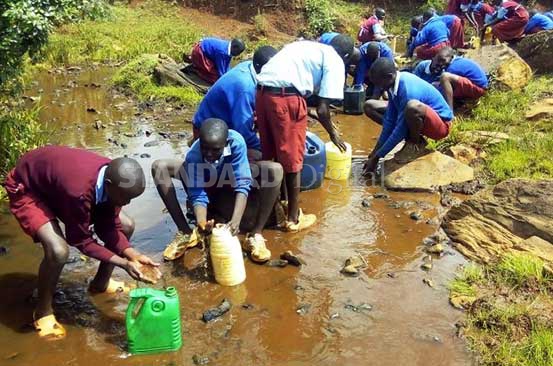 Over 5,000 people in Kabiemit ward of Elgeyo Marakwet County are sharing muddy water with their livestock after the county government allegedly blocked the only available source of water.
The residents who held protests Thursday accused the County Government of Uasin Gishu of blocking their only source of water and diverting the water to other areas.
The county officials erected tall barriers on the spillway at Cheboen Dam, which acted as the vital water source to residents living downstream.
The residents have threatened to bring the barriers down if the matter is not urgently resolved.
The Uasin Gishu County government has pumped Sh39 million into the Kipkabus water project, which is expected to benefit residents of Kipkabus, Waunifor, Olare and other neighbouring areas.
The aggrieved residents have been forced to scramble for muddy water with livestock as River Cheboen, which serves the area, is on the brink of drying up.
The river also provides water to the nearby schools, shopping centres and cattle dips.
Desilt dam
"We are suffering a lot since we do not have water.
The contractor blocked the spillway and an underground pipe at the Cheboen Dam, which used to feed the river that is almost drying up," said Joseph Chebore, a resident.
He said the Uasin Gishu County government told them that it wanted to desilt the dam only to later realise that they were laying water pipelines.
"We are not opposed to the project but we want equal distribution of the resource. It amounts to impunity to leave us without water while the pipelines pass in front of our doors," protested Mr Chebore.
Gladys Kiplagat said they have been forced to resort to dirty water since there was no other available source.
"As you can see, we do have another source. We rise up at dawn and go to the river to fetch the water before it is muddled by livestock. It is exposing us to health hazards," said Ms Kiplagat.
But Uasin Gishu Water Executive Mary Njogu downplayed the issue and asked the affected locals to be patient, as they would be provided with water soon.
She said before the project started, leaders from both counties held consultative meetings with the residents.
Women entrepreneurs in Kenya get Sh460m boost
Women entrepreneurs across East Africa are expected to benefit from Sh460 million ($4.5 million) one year programme aimed at upgrading their businesses through cross-border trade.