Auctions everywhere, but no takers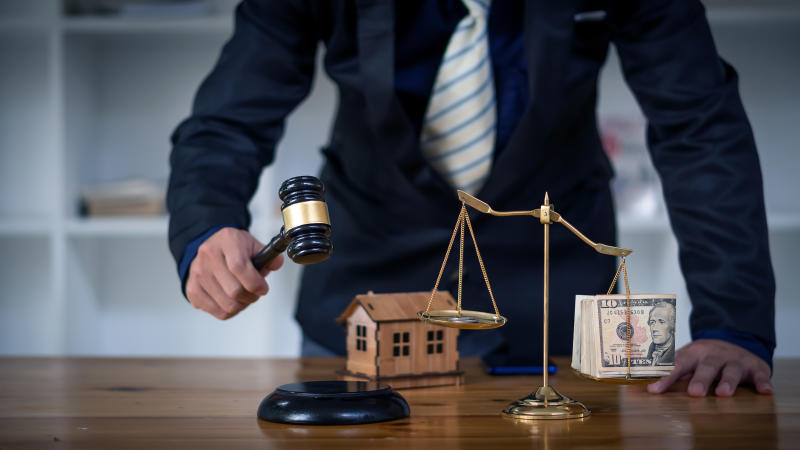 For over a year now, auctioneers and banks are stuck with prime commercial properties with no buyers in sight, even at cut prices.
"The properties are too many," Phillips International Auctioneers Chief Executive George Muiruri told Real Estate.
He said the cost of marketing the properties is increasingly high. Some of the properties have been in the market for more than two years without attracting buyers.
One institution that must know this struggle all too well is Housing Finance (HF), Kenya's premier mortgage lender that is diversifying into retail banking.
HF has in the past year been disposing of scores of residential and commercial properties worth billions of shillings.
While most may have been sold, the prime commercial spaces and hotels it has put on auction are proving a hard sell.
Some that have stayed long in the auction market include Thika Business Centre that is valued at Sh540 million, Kiambu Town Centre at Sh196 million and the Roof Garden Hotel in Machakos.
The business centres in both Thika and Kiambu are landmarks in the respective towns.
The Thika Business Centre is an 11-storey commercial building that has been put up for auction over a Sh520 million loan owed to HF.
The building is registered in the name of Kigio Group Company Ltd, which has diverse interests in property across Central Kenya.
The anchor tenant is Naivas Supermarket with the building also occupied by other top retailers such as Bata.
Last month, the High Court in Kiambu dismissed a notice of motion by Kigio Group seeking an injunction to restrain HF from selling the property pending the hearing and determination of a suit it filed against the mortgage lender and Garam Investments.
Properties are being sold at a forced sale. There are two prices at an auction: the market value and the minimum price.
For example, HF's valuation of the Thika Business Centre showed the property had an open market value of Sh720 million and a forced sale value of Sh540 million.
A limiting factor to get buyers is also linked to a recent law that seeks to protect property owners by demanding that a property cannot be sold at under 75 per cent of the market price.
Other hotels placed on auction by HF since last year include the Sh260 million Grace Villa Hotel in Ngara, Nairobi, a Sh49 million hotel in Ganjoni, Mombasa, the Sh18 million Hotel Legacy along the Eldoret-Malaba Highway and Sh5.5 million Jubenas Hotel in Busia.
It is not clear whether buyers have been found for the establishments.
Hotels have been the biggest casualties of the coronavirus pandemic with their mainstay – tourism, events and conferences – drying up owing to restrictions in travel and other measures meant to curb the spread of the disease.
Mr Muiruri says finding a buyer for a hotel would prove tough.
"Nobody would finance anyone to buy a hotel at this time. There's a challenge here," he says.
He, however, notes that smaller plots and residential houses are selling as people pooled their money during the pandemic after realising that owning a home was better than paying rent considering that incomes are uncertain.
"The big ones are proving a hard sell. Most of the small ones are being snapped up because of Covid-19 with people realising they need a roof over their heads," explained Muiruri.
HF also targets the sale of the Sh1.3 billion K-Mall in Nairobi's Komarock Estate.
In a previous interview, HF Chief Executive Robert Kibaara said they were in talks with potential buyers.
He said the sale of the over 88,000 square-feet shopping complex was pegged on the bank finding an anchor tenant.
This followed the exit of struggling retailer Tuskys Supermarkets, with Mr Kibaara revealing that HF was close to a deal with one of the "top supermarkets" to take the space.
"The discussions are ongoing with potential buyers. I can't share the details yet as we are out to get the best deal," he said.
He said the intention of developing the property was to serve the scores of housing units that HF had built for sale in the area.
"Now that we are at the tail end of selling all the houses that we have built-in Komarock - and you are aware that we have made a decision to exit property development - there's no need for us keeping a mall," Kibaara said.
Selling chances
Getting a buyer for the mall was not hard as the area has no other significant mall compared to other areas that suffer from an oversupply of malls, he said.
"There are other malls nearby... the challenge has been that malls are close to each other, for example in Karen. Kangundo Road has become dual carriageway, then the completion of Outer Ring Road has seen an upsurge in population. A good investor will see this mall can work."
Creditors are even giving one property to multiple auctioneers in a bid to increase selling chances.
For example, the Roof Garden Hotel in Machakos is being sold by both Garam Investments and Legacy Auctioneers.
In February last year, Garam Investments, one of the country's top auction firms, announced it would sell the six-storey hotel, which is linked to former minister Gideon Ndambuki.
Ten months later, the hotel that is being sold to recover a Sh80 million loan owed to Housing Finance, is yet to find a buyer.
Countrywide, since last year lenders have repossessed a number of hotels as the pandemic devastated the hospitality sector.
Kenya Shield Auctioneers, for example, sought between Sh175 million and Sh190 million for the six-storey Laibon in South B consisting of 56 rooms, a bar, restaurant and offices sitting on 0.115 acres.
Another hotel proving a hard sell for Valley Auctioneers is the Northgate in Makuyu.
Guesthouses have also not been spared, such as the Wilcah Resort Bar and Restaurant in Njabini, Kinangop. The facility is a three-storey commercial block with shops and accommodation rooms and was put under the hammer by Antique Auctioneers.
A property slump in recent years now worsened by the Covid-19 pandemic has further depressed Kenya's real estate sector.
Recent Central Bank of Kenya (CBK) data shows that defaults on loans advanced to the real estate sector rose by over Sh5 billion in the last quarter of 2020.
The sector recorded a 6.4 per cent increase in the non-performing loans from October to December 2020 to Sh61.4 billion, up from Sh57.7 billion in quarter three of 2020, said the CBK Quarterly Report.