Airbnb: Future of travel?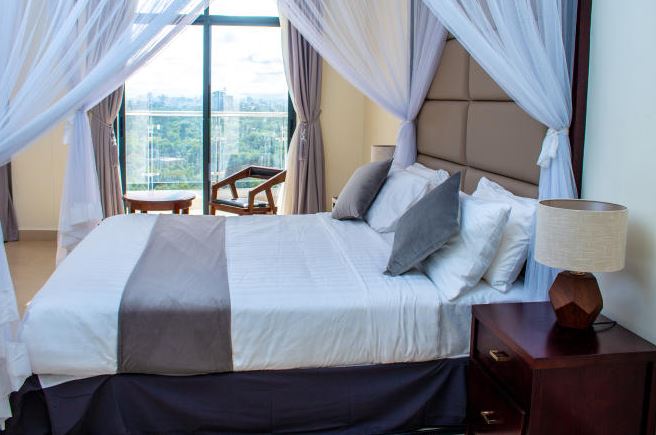 Holidaymakers are increasingly shunning the traditional way of looking up hotels for accommodation whenever they want to travel the world.
Instead, many people now look for residential property that rents out on a short-term basis to travellers.
It can be anything from a house, a single room, a boat or even a treehouse.
This is what is popularly known as Airbnb, which stands for Air Bed and Breakfast.
Airbnb is a lucrative business started in the United States in 2012, described as an online vacation rental marketplace.
Potential hosts register on the Airbnb website, where they advertise the property up for a stay using attractive photographs that show off amenities at the home.
And the business has been snatching potential hotel visitors through offering stays that feel more private, and are also cheaper.
A 2018 report by Airbnb indicated that Africa was the fastest-growing destination for the business, with over 3.5 million visitors booking stays.
"Of the top eight fastest-growing countries in the world for Airbnb guest arrivals, three are located in Africa: Nigeria, Ghana, and Mozambique," the report said.
"Kenya saw a 68 per cent increase in bookings. Other countries saw the bookings more than double, like Nigeria which had 213 per cent growth of guest arrivals and Ghana at 141 per cent."
James Ouma, a banker who runs an Airbnb in Mkomani, Nyali, says he opted to go into the business to tap the high number of visitors to Mombasa throughout the year.
"The coastal region is a tourism and leisure environment. People come for business, group events and team buildings," says Mr Ouma.
He registered the business and scouted for property to accommodate travellers.
"Putting a property up for rent doesn't give as much profit as one would expect. Airbnb profits are twice as much, sometimes thrice," he says.
Getting clients was a challenge initially and Ouma started renting out to friends before referrals started coming in.
He offers discounted rates for longer stays.
Ouma makes on average Sh80,000 monthly from the two-bedroom house, where he charges Sh2,500 per night.
The banker says December is the peak season due to the high number of holidaymakers and he makes up to Sh200,000.
Lennox Alex, another Airbnb host, also sees a peak at the end of the year.
"In December alone, I can make the same amount I have made in all the other months cumulatively," he says.
Mr Alex started the venture after quitting his job at a financial institution and later joined the corporate world.
He runs the Airbnb business in two one-bedroom houses in Mombasa, charging Sh2,500 per night.
"My Airbnbs are rented, so the first thing I do after securing the earnings of the month is to pay rent, which costs me Sh 18,000 per apartment," he says.
"After rent, I typically get to take home around Sh40,000."
He has not faced significant competition so far.
"One of the biggest challenges I face is losing potentially long-staying clients simply because I have a guest with one or two days left in their stay," Alex says.
"Now, with people in the same business being near me, we can work together and arrange the transfer of a willing guest to a similar home nearby. That way, I avoid losing out on good opportunities."
Anne Nduku, a businesswoman who travels a lot, decided to turn extra space in her home into an Airbnb.
"I was using the Airbnb website as a guest, often finding places to stay on the site while going around for business. With my home constantly being vacant, I considered becoming a host more seriously," says Ms Nduku.
Initially, she had fears about opening her home to strangers.
"I thought through the type of clients I wanted to entertain, and picked those travelling for business. The website allows one to select the category of guests," she says of her house in Baxton, Mombasa.
"Moreover, I do not host anyone below the age of 18 - not even if they are accompanied by adults."
She does not host smokers either, and discusses this with guests before they rent the property.
One time she was hoodwinked by a guest only to find burn marks from cigarettes on her couches.
The guest was apologetic and offered to make amends.
"It is good to have an open discussion with your guests, even if it's not always easy," Nduku says.
"The house requires constant upgrading as living on the furniture and using things leads to inevitable wear and tear."
"I'm comfortable if the house stays empty, as long as when it's occupied I have the right client," she adds.
Early this month, the government said owners of Airbnb facilities will have to obtain licences and pay annual fees to run their homestay businesses.
The Tourism Regulatory Authority said the licensing was aimed at regulating the fast-evolving accommodation and services sector.
"I only came to realise that I may need a license from the Tourism Regulatory Authority when I encountered a guest who refused to pay after her week-long stay. I sought help from the police, who informed me of the need for the licence as they looked into the matter," says Alex.
A source from the Tourism Research Institute says it is still too early to tell how fast Airbnb business is growing, but they are monitoring the trend.
"The market is dynamic and there is still currently room for both hotels and Airbnbs. Many people are still stuck in the traditional hotel ways and are not very trusting of the Airbnb set-up," the researcher said.