Land degradation puts conservation in jeopardy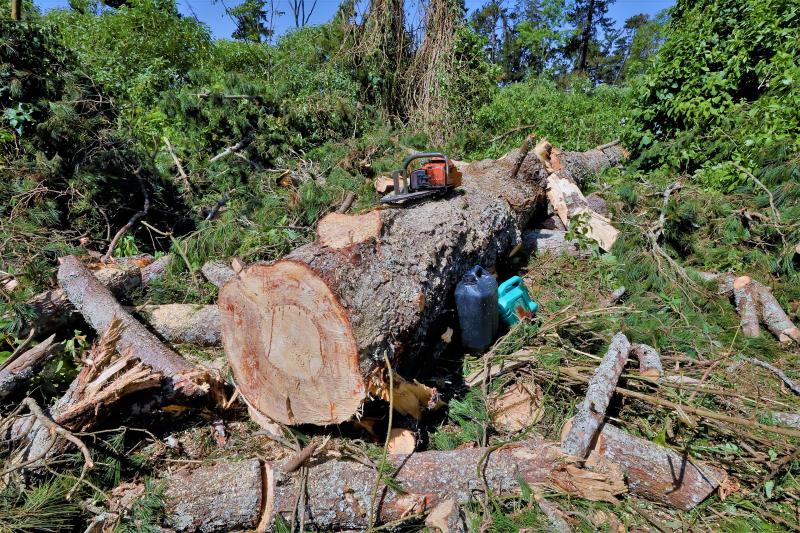 From the rooftop of Alan Donovan's African Heritage House in Mlolongo, the Kitengela plains at the tail end of Nairobi National Park look like a sweeping carpet of greenery. This is due to the intermittent showers that have hit the region lately.
From afar, one can make out a silhouette of a male ostrich, his black and white plumes glittering in the early afternoon sun.
Along the nearby old Nairobi-Mombasa railway line, a lone Maasai herdsboy calls out his cattle that have ran into a nearby bush. They have been scared by the noise of a Mombasa-bound Standard Gauge Railway train.
"Singekuwa hapa kama kungekuwa na nyasi Kajiado. Lakini hii reli inaleta shida mingi (I would not be here if there was pasture in Kajiado. Sadly, the new railway line is complicating matters of access)," said the young lad, who only identified himself as Lemayian.
Lemayian comes from a village on the other side of the park, near Kitengela. A few decades ago, the entire area was a dispersal corridor for wild animals coming into or leaving the park.
Unknown to the younger generation, including Lemayian, the park used to host as many wildebeests as can be found in Masai Mara at any given time.
Loss of habitat has seen the animal population in the Nairobi National Park ecosystem dwindle over the years. Lodges, homes, industries and infrastructure projects sound a death knell for the once famed conservation model.
Nairobi ecosystem is not the only one suffering from land degradation due to human activities and climate change.
The renewed drive to kick people out of the Mau Forest is borne out of the fact that human encroachment of the water tower has degraded the area, killing rivers that feed into the giant Mara River, Masai Mara's lifeline.
Sustainability
Stakeholders in the sustainable tourism sector say despite the negative impacts of climate change, human activities such as sand harvesting, fencing and deforestation make it difficult for local communities to improve their livelihoods.
"To reverse this menace we must all take responsibility and realise that each of us has an impact, negative or positive, and that our small actions will make significant positive impact on the land. We need to look for alternative sustainable means to generate income and actively educate our children on the importance of conservation," says Dr Mohanjeet Brar, managing director at Gamewatchers Safaris.
A report by the Ministry of Environment and Natural Resources on land degradation lays bare the extent of the problem. Titled, The Land Degradation Assessment in Kenya, the report says causes of land degradation are both natural and human-induced.
Natural conditions include adverse climatic conditions and extreme weather conditions such as droughts.
What concerns environmentalists the most are what is termed "proximate causes" – or those related to unsustainable land management practices, including over-cultivation, overgrazing and excessive forest conversion.
"Population pressure and declining livestock numbers have resulted in increased human settlement and cultivation in ecologically fragile areas. In such cases, violation of access rules of protected areas, blocking of wildlife migration corridors and increased wildlife-human conflicts have been reported," says the report.
Complicating the matter further, adds the report, conservation is underfunded while there is little political will to fight the threat. "Vested interests inhibit efficient and effective implementation of sustainable land use policies as spelt out in the various sector and policy documents," it says.
Mairura Omwenga, a town and county planner, says there is nothing wrong in using resources from conservation areas as long as these are harvested in a sustainable manner.
He says all resources in the country exist to benefit the people but their use must be regulated by the authorities. Sadly, he says, the country has neglected this aspect of regulation hence the knee-jerk reaction in times of crisis.
Total collapse
"Conservation as we know it faces total collapse in Kenya if nothing is done. Land is not an infinite resource. Uncontrolled human activities are the root causes of destruction of conservation areas. Human activities, including tree harvesting, can be allowed but in a very controlled environment," he says.
But Omwenga says prudent and sustainable use of resources is the last thing in the minds of many Kenyans, eager to eke out a living in the harsh economic times. "Our people continue to farm in steep areas, cut trees and remove ground cover allowing erosion to set in. They will grow crops for one season before productivity goes down and the cycle of poverty begins all over again. Some areas are best left under conservation," he says.
So is the poor state of a result of lack of policies? Apparently not, for Omwenga says even the older agricultural Acts did not allow human activities in very steep areas or those bordering water bodies and forests. "We have had policies for years but enforcement has been poor," he says.