Grey and yellow for an inviting feel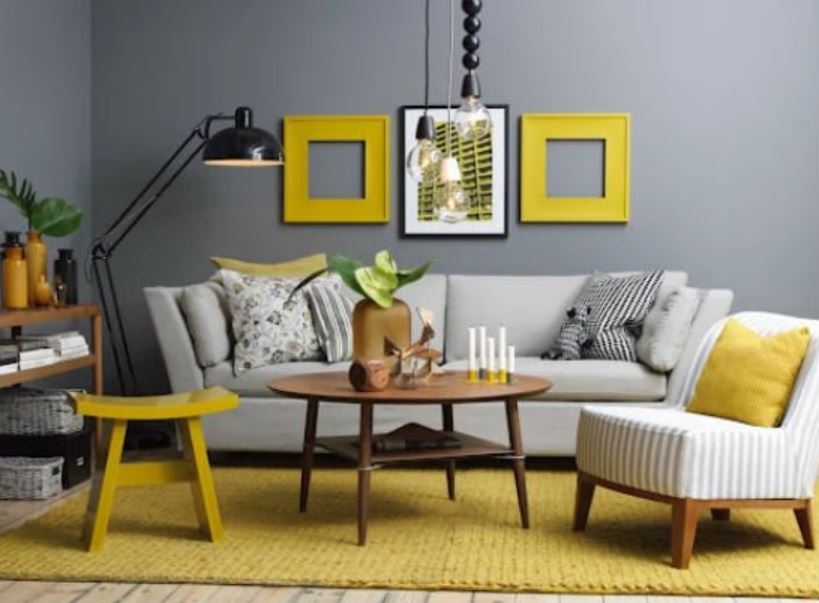 Grey is a great colour to try out. It works well on ceilings, walls, floors, furniture, upholstery and accessories and has a novelty feel from your usual white and cream.
If you want an airy and a lighter feel, then choose a light grey and pair it with white or soft white or cream colour for a minimalist clean feel.
Yellow accents and accessories add energy to the calmness that can be grey. The combination of the two colours is vibrant, lively and refreshing.
For darker shades, use charcoal grey sofa as the colour is darker and more child- and pet-friendly, but use bolder shades of yellow to punctuate the greys and add a pop of colour to the charcoal grey.
The yellows bring in some sunshine into the room and lift the ambience to add some happiness.
If using greys on the walls, then consider a cool blue or green furniture such as a sofa.
If walls are mid-grey, then opt for mid-blue or mid-green furniture as a second colour but ensure that the saturation weights are closely matched.
Then add your yellow accessories as a third accent colour on items such as cushions, a lamp shade, a painting or a mirror or picture frame.
Soft yellows go with soft greys. Try them on twin beds in a teen's bedroom. The colours are fun, relaxing and inviting and look good in any room.
Before designing a garden...
Study the views into and out of the site, slope, soil, the sun and shade patterns, existing vegetation, structures and utility lines.