Kenya Forest Service allocates area for endangered Bongo specie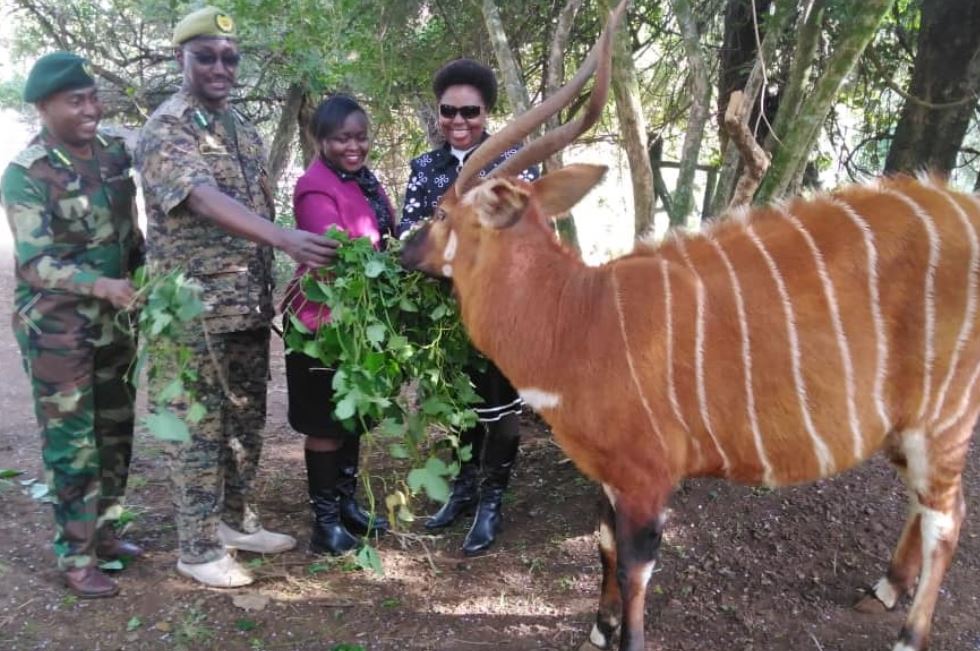 The Kenya Forest Service has allocated 776 acres within the Mt. Kenya Forest ecosystem for Mountain Bongo conservation.
The land will be used for expansion of the current Bongo sanctuary and also will be fenced and paddocked to allow for breeding.
The announcement was made by the Chief Conservator of Forests Julius Kamau, who spoke during the launch of the National Recovery and Action Plan for the Mountain Bongo 2019-2023 in Mt Kenya Wildlife Conservancy, Nanyuki.
Mr Kamau emphasised the importance of collaboration between Kenya Forest Service (KFS) and Kenya Wildlife Service (KWS), which is critical and essential in the protection of endangered species and directed all KFS field staff to work closely with their KWS counterparts.
"The board has favourably considered the request by Mount Kenya Wildlife Conservancy to give a special use license for Mountain Bongo, I have signed a communique granting them the authority of the protected area," said Kamau.
Mountain Bongo is considered endangered as the numbers are in dangerous decline due to human activities including poaching, logging, diseases and loss of habitat.
Kenya hosts 77 of the total 96 population in the world under the custody of Mount Kenya Wildlife Conservancy in Laikipia County.
The protected forest area set aside by the KFS is intended to create specific space for transition of the species into the wild and to enable them develop instincts to thrive in the environment as they have not been familiarised with the wild environment after a breeding program conducted in the USA and UK.
The species were picked from Kenya in the 1990's for breeding and they have since been repatriated to the country.
"The animals are here and we are ready to slowly release them to the forest. We are planning to fence the area so that we can win them back to the forest," said Margaret Mbaka a trustee for the conservancy.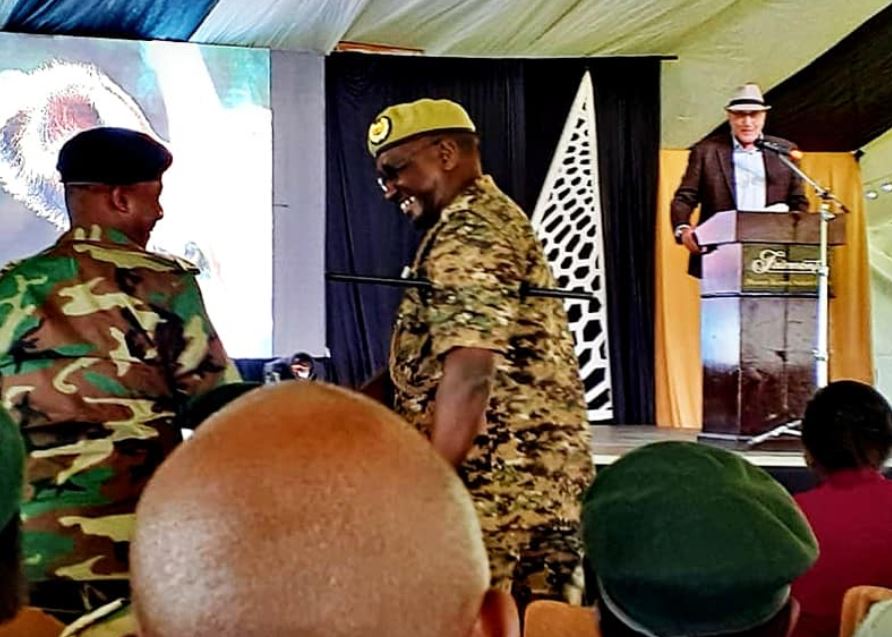 In an effort to ensure sustainable recovery KFS director general directed the managers at the Ontulili and Nanyuki forest stations (where the Mountain Bongo exist) to recognise the animals as flagship species and realign the agency focus on protection of the species.
Wildlife and tourism cabinet secretary Najib Balala said that Kenya targets to secure a population of 730 Bongo over the next 50 years.
Going forward, Balala noted that the taskforce appointed to forsee the transition of the animals and increase their population would be a multiagency commitment.
The launch of recovery of the endangered species comes after the end of a lineage where the last male white rhino (Sudan) died at Ol Pejeta Conservancy in Laikipia County.
"Repatriation of the Bongo after a successful breeding program and setting aside protected area for the animals is a hopeful milestone on conservation. We don't want to preside over ceremonies when we have already lost out in special species like what happened to the last male white rhino, " said Laikipia governor Ndiritu Muriithi.