Diani Reef Beach Resort and Spa gets five-star rating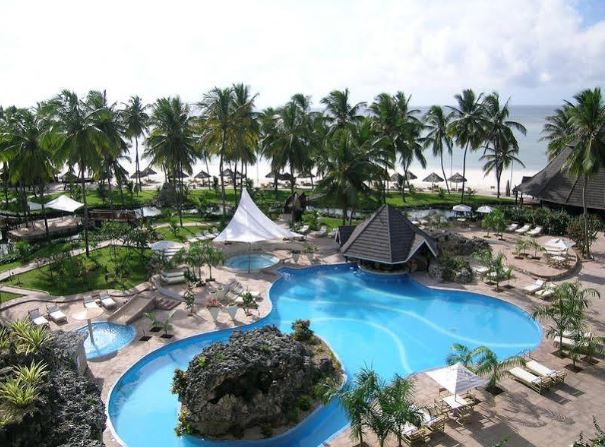 Award winning Diani Reef Beach Resort and Spa is now a five-star hotel.
The Tourism Regulatory Authority (TRA) in a letter dated April 16, 2019 and addressed to the Managing Director, Diani Reef Beach Resort and Spa, TRA conferred the five-star status to the facility located in Diani, South Coast, Kwale County.
With the award, Diani Reef Beach Resort and Spa now joins three other establishments at the Kenyan Coast that had earlier been awarded the five star ratings.
They include Medina Palms in Watamu, Kilifi County, Swahili Beach and Leopard Beach Resort and Spa (both in Diani, Kwale County respectively.
Speaking on its latest achievement, Mr Bobby Kamani, Managing Director, Diani Reef Beach Resort and Spa said that the the Diani Reef family is ecstatic to once again be awarded the five-star rating by TRA.
''We are immensely grateful to our team and credit this achievement to staff tireless efforts to uplift the service and refreshment of key areas of the property. This has also resulted in Diani Reef Beach Resort and Spa winning Africa's Leading Beach Resort and Spa at the World Travel Awards 2018 and being nominated once again for Africas leading Beach Resort and Kenya's leading Beach Resort at the 2019 World Travel awards.
Kamani said that as always, they remain committed to investing and supporting initiatives that elavate Diani, Africa's leading beach destination, to new heights and look forward to welcoming all guests as members of the Diani Reef family.
In the classification process, hotels with a one star are the most basic, the rooms have basic amenities, a bed, a reading table, while the bathrooms can be shared by several rooms or by a whole floor. You won't find a TV, telephone or room service in these hotels.
Those with two-star rating are a slight improvement from one-star hotels, they are cleaner, offer a private bathroom (don't expect a bathtub though), they may have a telephone, a TV (but with limited channels), and the reception may be opened for 24 hours. The hotel has to uphold cleanliness and maintenance of its facilities to maintain the ranking.
The three type of hotels are a bit nicer than the latter, they are in the middle of the rankings and thus maintain a balance of affordability and comfort. They have several types of rooms priced differently, are well secured, have Wi-Fi in public areas, an onsite bar or restaurant. Additionally, there should be a telephone in the rooms to reach reception, in addition to room service, a TV, slightly more furniture (may include a sofa, closet in addition to the bed and reading table). They may have a private bathroom attached to the bedroom for better privacy.
In the four-star category, expect a lot more in a four-star hotel, the décor is often top notch, the hotel has more staff and thus offers more services. They can be several bars and restaurants offering different cuisines, variety is a requisite in such hotels. Expect to find a fully equipped gym or a spa, conference room, a swimming pool; you should have 24-hour access to the hotel and find staff to serve you. The rooms are larger, the beds are big and cleaner.
They should be Wi-Fi provided at least within the bedroom with a private bathroom (a hot shower is a pre-requisite). You will often find different types of rooms priced differently in a four-star hotel including suites.
And those classified as five star lie atop the luxury chain, they have all the services offered in four-star hotels with an extra cherry on top.
They are spacious, with fancy décor (you will feel the ambience right when you walk in) the security is top notch with well-trained and friendly staff. Expect to have 24-hour access with round the clock room service.
These are the kind of hotels where you drive in and someone offers to find a parking space on your behalf.
Five-star hotels have concierge services bundled in, where someone would assist you with tasks like making restaurant reservations, booking transport, in addition to recommending the best nightlife hangout spots, coordinating the movement of your language etc.
Five-star hotels maintain excellent cleanliness and hospitality standards. They strive to meet every need visitor may have, of course only if they fall within the hotel and legal policies.