Sh3b The Waterfront Mall opens next week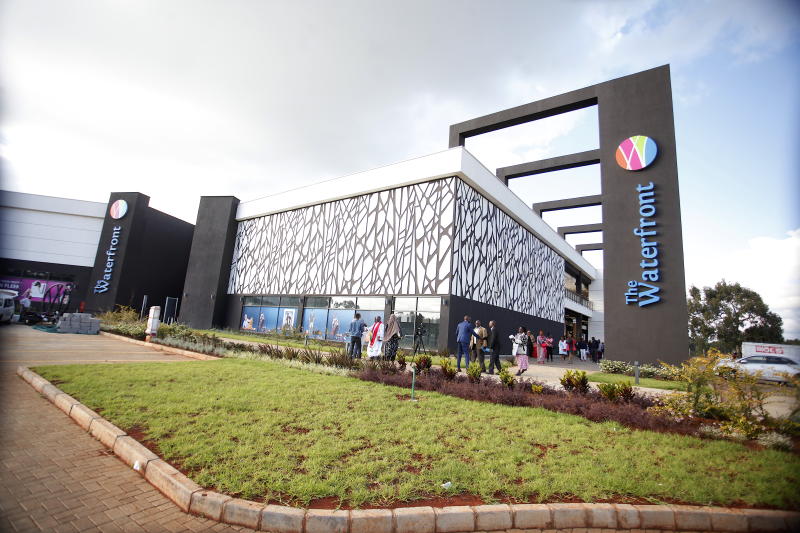 The Waterfront Mall in Karen, Nairobi, will open its doors to the public on December 12.
The Sh3 billion mall is located at the intersection of Lang'ata Road, Karen Road and Ngong' Road, commonly known as the Karen Triangle.
The mall, owned by the family of famous tycoon, the late Nelson Muguku, stands on 50 acres and has 200,000 square feet of retail space.
Its architectural design was inspired by water. A man-made lake that sits on three acres, complemented by five acres of landscaped lakefront, is situated right at the heart of The Waterfront. The mall has 1,000 parking bays.
The man-made lake will act as the mall's main water storage and recycling area. "The man-made lake is not only making sense ecologically but is also making a huge financial sense, especially considering that as much as 75 per cent of the water bills that consumer's pay in Nairobi constitutes sewerage costs," says David Muguku, the mall's director.
The anchor tenant, South Africa's retailer Game Stores, signed its tenancy agreement with The Waterfront last year and is currently stocking up in readiness for the Jamhuri Day opening. This will be Game Stores' second outlet in Kenya.
To enhance shopping experience, the mall has incorporated recreational activities in its design.
"The Waterfront will provide space for would-be shoppers to exercise. It has a dedicated 1.2 kilometres walking, cycling, and jogging track.
It also has a place for families to relax," says Edna Fernadez, The Waterfront's general manager.
Elsewhere, Nairobi's Riverside area is set to welcome new developments worth Sh3.5 billion. The projects, being backed by three independent developers, will be put up in the next two years.
One of the developers has proposed to construct two 12-floor blocks of residential development made up of 127 apartments. The development will also include 156 parking bays and other supporting facilities. The project will stand on 0.82 acres on Riverside Gardens off Riverside Drive in Westlands.
According to the regulatory filings at National Environment Management Authority, another developer, has proposed to construct 126 residential units on a plot bordering the previous one, located on Riverside Gardens off Riverside Drive.
The development will be established on a piece of land measuring about 0.82 acres. It will have 162 parking bays and other auxiliary facilities. The proponents estimate the project will cost Sh1.075 billion. The third investor plans to put up a Sh1.3 billion commercial property. The proposed project entails the construction of two blocks of 12 floors comprising retail and office spaces, with a total of 15,227 square feet retail and office spaces.