Entrepreneur who makes building materials from waste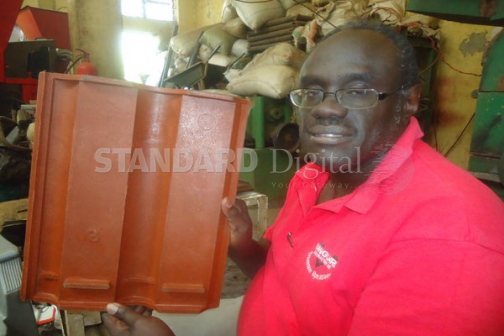 With the high prices of steel, vandalism of metals and rotting of timber, experts in the built environment are coming up with alternative building technologies that are cheap, durable and free from vandalism.
One such expert is Dr Aghan Oscar, who is recycling waste plastic into building materials and selling them to developers who use them to provide affordable housing.
Dr Oscar produces the materials at his industry in Kariobangi South, Nairobi. Some of the products include lumber planks, paving slabs, manhole covers, ridge tiles, and fencing posts. The company - Continental Renewable Energy Co Ltd (Corec) - was born in 2013.
Dr Oscar has contracted Kariobangi youth to collect, clean, crush and sell scraps to the factory. The fencing posts come in various sizes that sell for between Sh800 and Sh1,000 per post. He says they make about 100 posts per day and sell them to the Kenya National Highways Authority and individuals.
The factory has employed 13 permanent staff, including former street boys. He says the factory has helped lift almost 1,000 tonnes of plastic waste from landfills for the last 38 months, created 300 jobs, made 26,000 posts.
He says one kilogramme of plastic waste saves 2.5 kilogrammes of carbon emissions, and for every 10 plastic posts produced, one tree is saved.
"The problem is not waste papers and bottles, the problem is residents' behaviour of throwing litter everywhere...," says Dr Oscar, who is now demonstrating the idea to Kisumu and Mombasa counties to counter plastic wastes. The lumber planks posts come in black and grey and are used in making gates, poolside beds, cowsheds, signage posts among other purposes.
He advises the government not to ban the use of wrapping polythene bags because it could render many youths jobless. "We now collect plastic bags from malls, factories, homes, hotels and dumpsites and even some organisations bring them to us," he says. Oscar, through a resin that took him seven years to come up with and patent, now produces roofing tiles.
From April, Dr Oscar plans to increase the number of tiles produced from 250 per day to 5,000 after importing new machines. "For me, the bottom line is to provide Kenyans with decent, affordable and durable building materials which ultimately translate into to low cost-housing," says Dr Oscar, who once worked at the National Housing Corporation as the deputy general manager and head of projects.
Dr Oscar, a public health and project management professional, also worked with mission hospitals as a consultant and left active employment in 2011.