The making of a budget hotel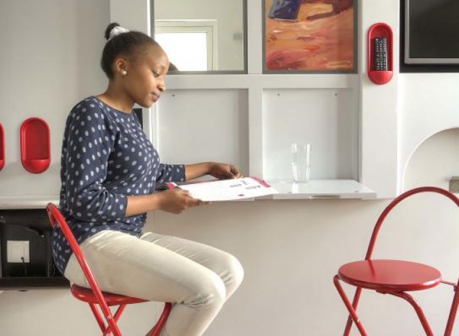 Five months ago, Tune Hotel, part of the Tune Group of Companies, opened its doors to the public in Westlands, Nairobi. This is the first Tune Hotel in Africa, though plans are underway to open another branch in Dar es Salaam, Tanzania, in 2018.
The hotel, located on Raphta Road, mainly focuses on serving the money-conscious traveller and the business-minded individual: "We provide the basics for a good night's sleep at a pocket-friendly price."
Here is what to expect at the hotel:
A good night's sleep
All beds here are Hypnos beds. A Hypnos bed is an orthopaedic bed that uses a blend of natural and sustainable fillings and a signature pocket spring system for comfort. "The Hypnos bed is endorsed by the queen. When you sleep on it, you are literally sleeping like a queen," says Herman Okindo, a manager at the hotel. "It is suitable even for those with back problems."
The pillows are synthetic. "Synthetic pillows are free of allergens so we do not have to worry about guests with allergies," says Okindo. The hotel plans to introduce other kinds of pillows, including the spelt pillow.
"The pillow follows ones neck and head shape, which allows it to support the spine while an individual is resting. The silica that evaporates from the spelt has several health benefits while it is good for stress and cramps as it relaxes nerve endings," he says.
The hotel also plans to introduce memory foam pillow: "It takes the shape of the body thus promoting proper spinal alignment. By so doing, the neck and shoulder muscles fully relax, relieving one of neck, shoulder and back pains."
Accessible rooms
Of the 280 rooms spread over 11 floors, the hotel has five "accessible" rooms - that is, rooms specifically designed for the physically challenged. Each floor, from first to fifth, has one "accessible" room in compliance with the Persons with Disabilities Act, which requires buildings to provide a barrier-free and disability-friendly environment.
"We want to cater for all our clientele," says Andrew Olepa, an assistant manager at the 3-star hotel.
The accessible rooms also have "call-for-help" accessory that involves the simple act of pulling a string. "The accessible bathrooms have a string, which when pulled, alerts the reception that the occupant of a certain room needs help," says Olepa.
Cost
Guests at the hotel can eat from its Utamu Restaurant and the "Grab and Go" coffee shop or other restaurants - and can even bring food from outside. In fact, the hotel has a map of restaurants around Westlands pinned on the billboard in each room from where one can have a bite. "We may not cater to everyone's food preferences, especially people with very specific needs. If you also consider our location, there are so many other restaurants that people would want to sample while staying here," says Miriam Njoki, the restaurant's manager.
Effect on business
But she is aware of the challenge that comes with giving clients this option. "Granted, the restaurant does heavily bank on the revenue from clients staying with us. It would therefore be a big blow to the restaurant if they did not choose to eat at the restaurant," she says. "We ensure a constant rotation of the menu, the early bird menu - that changes every 10 days. It is a three-course meal with a two-course alternative, offered for specified hours every day, and with it comes an "all you can drink" vodka option at affordable prices."
Fun
For those travellers looking to have a good time, the rooftop bar and lounge, gives a 360-degrees view of the vibrant Westlands and the city beyond.
Each room is equipped with a work-of-art done by local artiste Tom Mboya. "We wanted foreign visitors to feel the African vibe and the local client to feel at home," says Okindo.
Rates
Rooms at the hotel go for at least Sh7,000, with an extra head being charged an additional Sh1,000. "We are able to keep our rates that low since we do away with anything that unnecessarily adds up to the cost," says Okindo. The things that increase the cost include room service and valet services.
Under the "no-frills" model, a customer will only pay extra if he uses amenities like hair driers, air conditioning, watch premium television channels or order extra linen.