Making buildings safe and habitable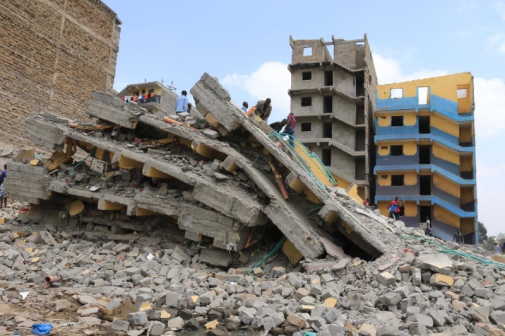 At the height of collapse of buildings in Nairobi and other parts of the country last year, President Uhuru Kenyatta ordered the formation of National Building Inspectorate Department under the Ministry of Public Works.
The inspectorate's mandate is to inspect and audit buildings within the city before later extending that mandate to the other 46 counties.
One year and 10 months later, the inspectorate's secretary Moses Nyakiongora says the efforts are bearing fruits.
"Our mandate was to inspect and audit all buildings starting with Nairobi and later all counties. The good news is that we have saved lives despite challenges like lack of enough staff and little budget. We have so far inspected and audited 4,950 residential buildings in Nairobi. Out of those, 640 are dangerous and may collapse," says Nyakiongora.
He says out of the 640 houses deemed dangerous, 29 have already been demolished; they have evacuated occupants of the ones not yet demolished.
He says most affected buildings are in Eastlands. They work hand-in-hand with other agencies like the National Construction Authority, Nairobi County Government and the National Environment Management Authority.
According to Nyakiongora, buildings mainly collapse due to ignorance, poor workmanship and failure to enforce laws. He blames it on greed, which has seen developers take short-cuts during construction.
So what does it take for a house to be considered habitable?
"A house that is above five stairs must have a lift. The house should be well-ventilated, dry, and spacious to allow for air circulation," says Nyakiongora, a quantity surveyor with more than 20 years experience in the building and construction industry.
Nyakiongora, a former chairman of the Institute of Quantity Surveyors of Kenya (IQSK), and former government chief quantity surveyor, is confident that one day, houses built in Kenya will last long like 300 years as happens in European countries.
"For a house to be structurally safe, there should be scientific tests on the strength of the foundation on different grounds. The foundation must be well done using a qualified structural engineer," she says, adding that buildings that go above three floors must have columns and beams to hold the weight of the building and people that will occupy it."
A building should also have spacious staircases and proper sewerage system.
He says when they audit the safety of a building, they can see from face value of the house and tell whether it is unsafe or safe for occupation. Evidence of the unsafe houses can be the foundation giving in due to lack of even settlement, leading to cracks.
"If you see windows caving, doors cannot open well, it a sign that all is not well and you need to vacate that house," advises Nyakiogora.
But not every developer wants to hear that kind of news and are only convinced that their building is unsafe when it collapses and people die. Some of them rush to court to obtain an injunction.
The inspectorate is promising to go around all the 47 counties to audit and inspect buildings to make sure they are safe for human habitation.
It expects to inspect and audit 20,000 buildings in Nairobi by 2020. For the past two years, they have inspected 5,000 houses. It expects to inspect 2,000 before the end of this year.
He says that when a building is marked X, it does not necessarily mean it has to be demolished.
"We want also to rehabilitate riparian areas that have been encroached by many people. The building that collapsed in Huruma last year was on a riparian area near a river," he says.
He says there are already relevant laws in place to monitor the building sector, but enforcing those laws is still a problem.
Nyakiongora says he wants to help streamline the building sector so that there will be no encroachment on rivers and unsafe buildings in future.
On affordable housing, Nyakiogora blames high land prices and high cost of infrastructure development.
"If the government puts in place infrastructure like water, electricity, roads and sewerage system, we will have well-planned buildings and a possible reduction in the cost of housing," he says.
Nyakiongora has a warning to greedy developers: "You better make sure your buildings are up to the required standards because we are soon coming for you. Involve experts and get proper advice, do what is expected and you are safe. It is better to build a proper structure than unsafe one, which will cost you more in terms of court fines, detention among other things."