Old Namanga hotel that was a hit with tourists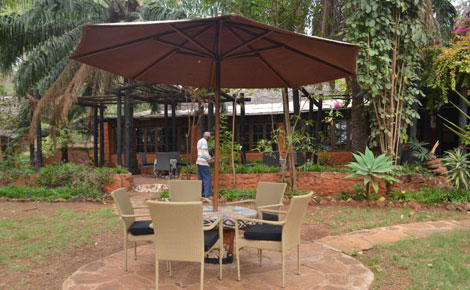 At the heart of Namanga, a Kenya-Tanzania border town, is Namanga River Hotel. It looks like a normal transit hotel, but it is the attachment to Kenyan history that makes it enchanting.
Before the hotel was built in 1930, the place where it now stands used to be a rest stop for tourists. Budge Gethin, an ex-British soldier, started organising safaris for photography enthusiasts as an alternative to the hunting safaris that everybody else did.
According to 'Amboseli, A miracle Too Far?' a book by David Lovalt Smith, Gethin knew the area more than any European then.
Karen Blixen connection
Gethin first came to Kenya to work with Standard Bank, but went to work instead for the Karen von Blixen coffee estate in Kiambu. In 1914, he served with the Volunteer Maxim Gun Company during the scramble for East Africa.
He came out of the war in 1924, and that's when he set about starting the photographic safari business.
Gethin's first client was former king, Ferdinand of Bulgaria. He established a staging post at the bottom of Namanga Hill known as Ol Donyo Orok, which is Maa for the "Black Mountain".
This staging post also became an overnight rest house, which later enlarged into a fully fledged hotel. Namanga River Hotel soon became an oasis for travellers between Nairobi and Arusha in the then Tanganyika — Namanga being between the two towns. As part of his photographic tour, Gethin took many visitors to Amboseli and in 1934, he established a camp in Ol Tukai known as Rhino Camp.
He was instrumental in having Amboseli becoming a protected area, being the first person to put in a good word to the trustees. Amboseli became a national reserve in 1948.
In an interview, his son Pat said that Gethin's real name was Percy St Lawrence Gethin, but he was nicknamed "Budge" due to his refusal to budge on matters of principle.
Nickname
Pat added that the name may also have come from the Budgerian bird species, which were his favourite. He had a well-stocked aviary at the camp. Pat recalled that the Namanga River Hotel was not always permanent camp.
Initially, there was a big tent under a big thorn tree. Thereafter, a store for supplies was built with mud walls; the exterior was lined with cement and it had a grass-thatched roof.
Then a verandah was built, which could seat four people. It was later transformed into a dining room when Gethin transformed it into a fully fledged hotel.
Namanga River Hotel sits on 2.5 acres. The water supply to the hotel comes from the Namanga Mountains. However, Pat recalled that when they connected water to the hotel, they had several run-ins with the Maasai, who would break the water pipes to fetch water for their cattle.
The big thorn tree that was at the centre of the property was used as a crane to lift supplies off the service van. There was no electricity then, and they used a big wheel as a generator.
John Keen
During those days, the hotel was predominantly white, up until John Keen bought it in 1976. The hotel was built using locally available materials.
Keen only added three rooms, and has done minimal renovation in the 38 years he has owned it. Namanga River Hotel has a total of 30 rooms.
In fact, he has two staff members who have worked there for 25 years. In the dining room, there is a buffalo horn and elephant ivory that John Keen found at the hotel when he bought it.
The rooms – some double, others twin - have terrazzo and mazeras floors, with old style showers and water closets. Behind the hotel is a bridge over Namanga River, that was built by Italian prisoners of war (POW) in 1943.
One of the reasons Gethin picked the spot as a staging post is that it was possible to see Mt Kilimanjaro from there. It still is, just as it still is an overnight rest stop for tourists heading to Tanzania.