You can never go wrong with fabric wall hangings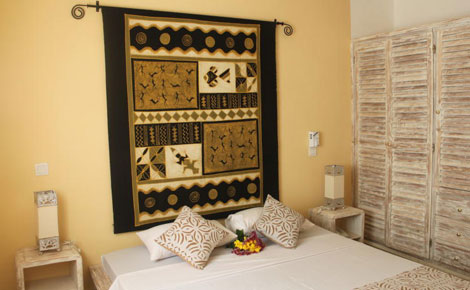 Fabric wall hangings can add character and texture to walls in a way that paint or wallpaper can never achieve. Whether hanging on the head of a bed, on corridors or hallways, wall fabric hangings will add dramatised and chic boldness to your space.
Fabric selection
Select a unique tapestry fabric that suits both your personal taste and room style. There are incredible range of decorative wall hangings available at art galleries, furniture and interior decorating shops as well as flea markets such as the curio stalls and Maasai Market.
Whether hand-painted, handwoven, printed or embroidered, fabric wall hangings sometimes have artistic, tribal or religious inspirational messages. They come in versatile designs with florals, animal prints, bead-work, mirror-work, patchwork and tribal handwork.
Choose tapestry that is a bit heavy so that the weight helps it to hang well. This will create a luxurious rich warm feeling to a room as it blocks off draught. Flimsy fabric such as oganza or sari are easier to clean but will need to be mounted on a frame or stapled to support it.
Hanging the fabric
To hang the fabric, simply measure the height from which the cloth should hang and mark the wall. Fit it in a rod made either from wrought iron, chrome, wood or brass, depending on the décor style in the room and hang the fabric.
Select a decorative rod endings that will add aesthetics to functionality on the wall. Ideally, the foot of the fabric should be slightly concealed by the bed so that it covers the entire wall above the bed rather than dangling.
Hang the cloth securely to prevent incidents like accidentally falling on a person who is sleeping. Try out batiks, tie and dye fabrics, and a patchwork quilt wall hanging to add a whimsical warm touch to a child's room.
The rooms at the Village Resort in Malindi as illustrated in the photographs have used an African wildlife themed wall hanging to create a focal point above the bed. A matching geometric fabric runner and scatter cushions placed on the bed help to accentuate the theme and to create a sense of unity and harmony.
Care should be taken not to hang fabric wall hangings over cookers as they can absorb kitchen scents or worse still catch fire. Also to be avoided are wet areas such as bathrooms as the fabric could easily get mouldy due to the high humidity levels.
Nevertheless, explore versatile fabric wall hanging options to add interest to your walls and simply swap them or replace them for a different feel. A well selected wall hanging that fits in with the décor will give you a unique hard-wearing luxurious artwork that will liven up your walls for years to come.